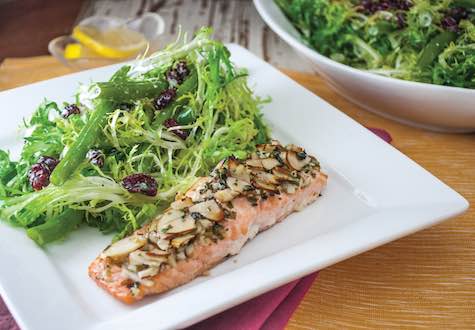 Eating certain foods can help your immune system stay strong as it fights viral infections like the coronavirus. This easy almond crusted salmon recipe is full of immune-building food soldiers.
Almonds are a great source of vitamin E, which helps maintain healthy skin — your first line of defense against infection. With a good dose of healthy omega-3 fats and vitamin A, salmon and other oily fish help build the antibodies you need to stave off and battle viruses.
And antioxidant-rich frisee salad and Greek yogurt dressing is full of probiotics. These support good bacteria in your digestive system that help your body fight bad bacteria and viruses. You can make this immune-fortifying dinner in about 30 minutes.
Servings: 2
Nutrition Facts

Calories: 472
Fat: 33g
Saturated Fat: 3g
Cholesterol: 66mg
Sodium: 216mg
Carbohydrates: 16g
Fiber: 4g
Protein: 26g
Ingredients
Salmon
2 salmon fillets, 1 1/2-inch thick (4 oz each)
1/4 cup unsalted sliced blanched almonds
1 tsp olive oil
1 tsp chopped fresh oregano or dried oregano
2 garlic cloves, minced
1 tsp chopped fresh parsley
2 tbsp fresh lemon juice
1/8 tsp salt
Black pepper to taste
Salad
2 cups frisee
1 cup green beans, trimmed and blanched
1 tbsp low fat plain Greek yogurt (gluten free if needed)
1 1/2 tbsp olive oil
2 tbsp dried cranberries
1 tbsp fresh lemon juice
1/8 tsp salt
Black pepper to taste
Directions
Preheat oven to 400°. Wash and pat salmon dry.
With a piece of foil, make a square, lifting the sides to create a ridge on all sides. Lightly coat the foil with nonstick cooking spray. Arrange the salmon on the foil.
In a small bowl, combine almonds, oil, oregano, garlic, parsley, lemon juice, salt, and pepper.
Top the salmon with the almond mixture, covering the top and all edges.
Bake the salmon for 8 minutes.
Remove from the oven and let the salmon rest for at least 5 minutes at room temperature.
Meanwhile, make the salad. In a bowl, toss all the salad ingredients.
Serve the salmon with the salad.
Drizzle salmon with additional fresh lemon juice, if desired.
Copyright 2020 © Baldwin Publishing, Inc. All rights reserved.
Health eCooking® is a registered trademark of Baldwin Publishing, Inc. Cook eKitchen™ is a designated trademark of Baldwin Publishing, Inc. Any duplication or distribution of the information contained herein without the express approval of Baldwin Publishing, Inc. is strictly prohibited.
Subscribe for Updates
Get stories & health tips every week