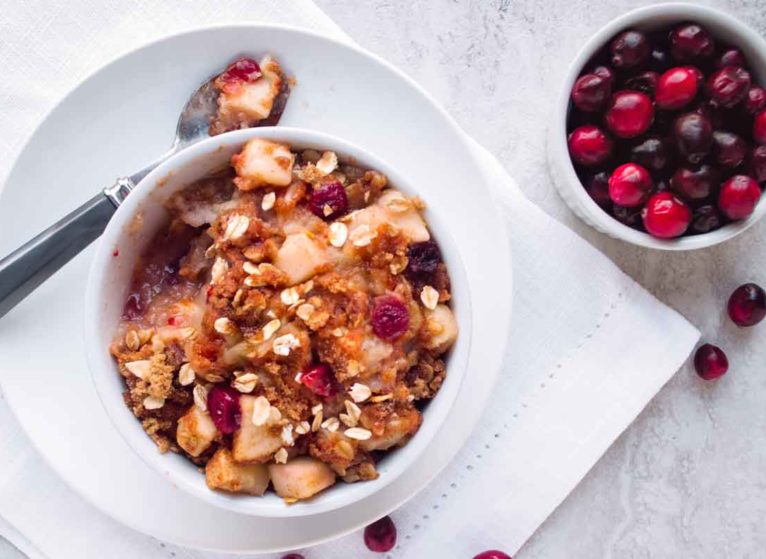 Here's an apple crisp that's fewer than 200 calories per serving. An easy topping gives this apple dessert a sweet touch. This apple crisp is quick and delicious.
Servings: 8
Nutrition Facts

Serving size: 1/2 cup
Calories: 170
Fat: 5g
Saturated Fat: 2g
Cholesterol: 12mg
Sodium: 37mg
Carbohydrates: 32g
Fiber: 3g
Protein: 2g
Ingredients
5 medium McIntosh apples (about 5 lbs), peeled and sliced
1/2 cup dried cranberries
1 Tbsp fresh lemon juice
1 Tbsp granulated sugar
1/3 cup brown sugar
3 Tbsp cold unsalted butter, cut into bits
1/4 cup rolled oats
1/2 cup whole wheat flour
1 tsp ground cinnamon
1/4 tsp ground nutmeg
2 Tbsp chopped walnuts (optional)
Directions
Preheat oven to 400°. Lightly coat a 9 x 9-inch baking dish with nonstick cooking spray.
In a large bowl, toss the apples and dried cranberries with lemon juice and granulated sugar. Transfer fruit to baking dish.
In another bowl, combine remaining ingredients and toss together to form a crumbly topping.
Spread topping over apples and bake 30 minutes, or until topping is browned and the apples are tender. Serve warm.
© Baldwin Publishing, Inc. ® Health eCooking is a registered trademark of Baldwin Publishing, Inc. No information provided in any recipe and/or other product or service is a substitute for professional medical advice and should not be interpreted as treatment recommendations. ALWAYS SEEK THE ADVICE OF A PHYSICIAN OR OTHER QUALIFIED HEALTH PROVIDER WITH ANY QUESTIONS REGARDING A MEDICAL CONDITION.
Subscribe for Updates
Get stories & health tips every week