Asparagus and Poached Eggs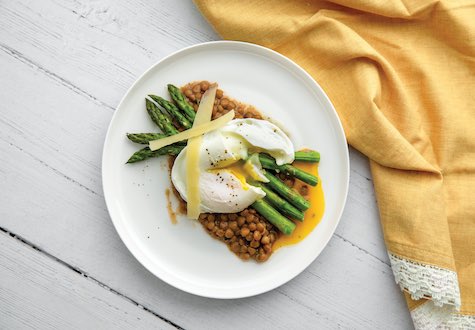 Asparagus and poached eggs are a perfect pair in this light spring brunch recipe. Loaded with protein, this meatless meal is dressed up with some shaved Parmesan.
Servings: 4
Nutrition Facts

Calories: 207
Fat: 10g
Saturated Fat: 2g
Cholesterol: 186mg
Sodium: 327mg
Carbohydrates: 17g
Fiber: 4g
Protein: 14g
Ingredients
1 bunch asparagus (about 30)
1 1/2 tbsp olive oil
3 garlic cloves, minced
1/8 tsp salt
Black pepper, to taste
2 tbsp fresh lemon juice
1 tsp lemon zest
2 1/2 tbsp red wine vinegar
2 tbsp Dijon mustard
1/4 tsp chopped fresh thyme
1 cup cooked lentils
4 eggs
Shaved Parmesan cheese, for garnish (optional)
Directions
Preheat the oven to 350º.
In a bowl, toss the asparagus with 1 tablespoon of the oil and the garlic. On a baking sheet, arrange the asparagus in a single layer and season with salt and pepper.
Roast for about 10 minutes, or until tender. Remove from the oven and toss with lemon juice and lemon zest. Set aside.
In a medium bowl, combine the red wine vinegar, mustard, thyme, and remaining 1/2 tablespoon olive oil. Whisk until emulsified.
Add the lentils and stir to combine. Set aside.
Bring a pot of water to a low simmer.
Crack an egg into a small bowl, then gently slide the egg in to the pot of water. Repeat with the remaining eggs.
Cook the eggs for 3 minutes. With a slotted spoon, remove each egg and transfer to a dish. With a paper towel, dab the excess water.
To serve, on each plate, arrange 1/4 cup lentils and top with asparagus spears.
Add a poached egg on top of the asparagus and season with black pepper.
Garnish with the shaved Parmesan, if desired.
Copyright 2020 © Baldwin Publishing, Inc. All rights reserved.
Health eCooking® is a registered trademark of Baldwin Publishing, Inc. Cook eKitchen™ is a designated trademark of Baldwin Publishing, Inc. Any duplication or distribution of the information contained herein without the express approval of Baldwin Publishing, Inc. is strictly prohibited.
Subscribe for Updates
Get stories & health tips every week