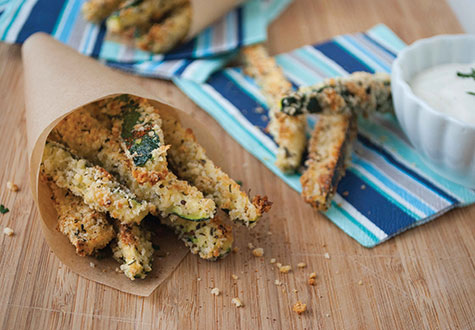 Servings: 12
Nutrition Facts

Serving size: about 5 sticks
Per Serving: Calories: 65 Fat: 2g Saturated Fat: 1g Cholesterol: 34mg Sodium: 143mg Carbohydrates: 7g Fiber: 1g Protein: 4g
Ingredients
2 eggs
1 cup panko bread crumbs
1/2 cup grated Parmesan cheese
1 tsp dried oregano or 2 tsp chopped fresh
1 tsp dried thyme or 2 tsp chopped fresh
1 tsp dried basil or 2 tsp chopped fresh
1 tsp garlic powder
1/4 tsp salt
Black pepper to taste
3 medium zucchini
Low-fat Ranch dressing for dipping (optional)
Directions
Preheat the oven to 425°. Line a baking sheet with parchment paper or lightly coat with nonstick cooking spray.
In a bowl, beat the eggs. In another bowl, mix bread crumbs, Parmesan cheese, oregano, thyme, basil, garlic powder, salt and pepper to taste.
Cut zucchini in half lengthwise, then slice into 4″ x 1/2″-inch sticks.
Dip the zucchini sticks into the egg and then into the bread crumb mixture. Arrange in a single layer on the baking sheet. Bake for 15 minutes, or until softened. Place under broiler for 5 minutes, or until slightly browned. Serve with Ranch dressing, if desired.
Copyright 2018 © Baldwin Publishing, Inc. All rights reserved.
Health eCooking® is a registered trademark of Baldwin Publishing, Inc. Cook eKitchen™ is a designated trademark of Baldwin Publishing, Inc. Any duplication or distribution of the information contained herein without the express approval of Baldwin Publishing, Inc. is strictly prohibited.
Subscribe for Updates
Get stories & health tips every week