Barbecue Chicken Salad with Avocado Ranch Dressing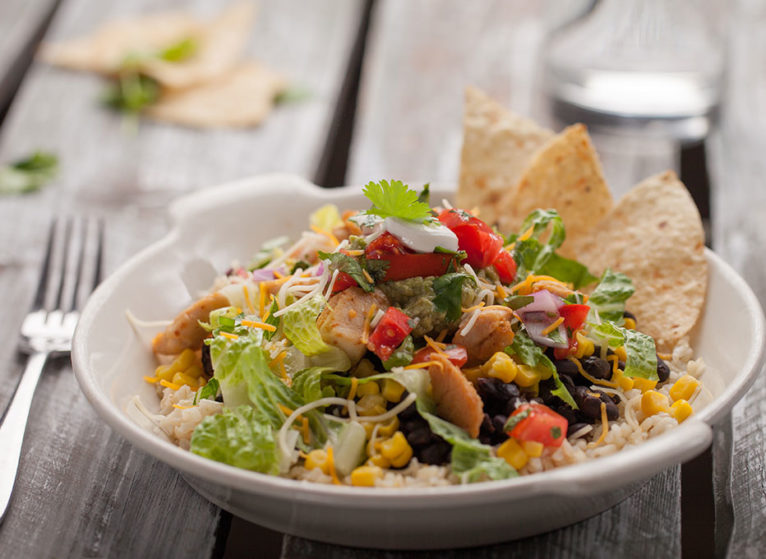 Servings: 4
Nutrition Facts

Portion size: 3 cups salad + 1/4 cup dressing
Calories per serving: 562
Total fat: 11g

Saturated fat: 2g
Protein: 43g
Cholesterol: 70mg
Carbohydrates: 26g
Fiber: 15g
Sodium: 520mg
Ingredients
Salad
2 cups cooked chicken breasts, chopped, skin removed
1/2 cup barbecue sauce
8 cups romaine lettuce, chopped
2 cups grape or cherry tomatoes, cut in half
1 1/2 cups jicama, peeled and chopped
1 15-oz. can no-salt-added black beans, drained and rinsed
1 cup fresh corn, cut off the cob (or frozen and thawed)
1 cup red onion, chopped
3/4 cup reduced-salt yellow tortilla chips, crushed
1 lime, cut into 4 pieces, optional
Avocado Ranch Dressing
1 cup Greek yogurt (fat-free)
1/2 ripe avocado
1 Tbsp. fresh chives
1/4 tsp. garlic powder
1/4 tsp. dried parsley
1/4 tsp. dried dill
1/4 tsp. salt
1/4 tsp. pepper
1/2 lemon, juiced
1 Tbsp. water
Directions
Dressing
In a food processor or blender, combine avocado and Greek yogurt with dill, parsley, lemon juice and fresh chives; add salt and pepper.
Blend until smooth. Add water and blend once more.
Refrigerate until ready to use.
Salad
In a small bowl, add chicken and toss with 1/4 cup of barbecue sauce.
In large bowl, add all salad ingredients. Toss with Avocado Ranch Dressing and then top with barbecue chicken. Sprinkle with crushed tortilla chips.
Plate the salad and garnish each serving with one lime piece.
Subscribe for Updates
Get stories & health tips every week