Barley Vegetable (Meatless) Ragout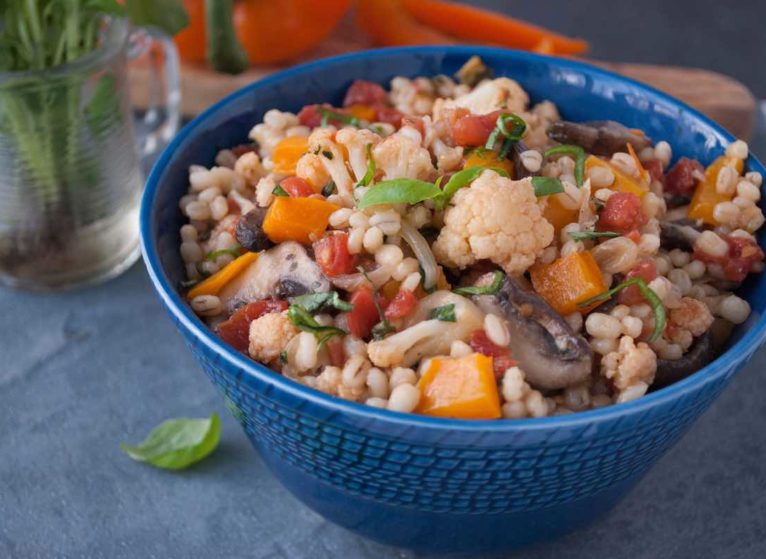 Ragout is typically a stewed meat dish. But this hearty vegetarian version is a healthy, high-fiber option to satisfy your comfort food craving.
Servings: 6
Nutrition Facts

Calories: 251 Fat: 11g Saturated Fat: 2g Cholesterol: 4mg Sodium: 156mg Carbohydrates: 32g Fiber: 8g Protein: 8g
Ingredients
2 1/4 cups low-sodium vegetable broth
3/4 cup uncooked pearl barley, rinsed
2 tbsp olive oil
1 package (10 oz) cremini mushrooms, sliced
1 small head cauliflower, cut into florets
1 large white onion, cut into strips
5 fresh plum tomatoes, diced
2 small orange bell peppers, diced
1/2 cup fresh chopped basil leaves, plus additional for garnish
1/4 cup grated Parmesan cheese
1/8 tsp salt
Black pepper to taste
Directions
Bring broth to a boil in large pot.
Add barley, reduce heat to low, cover, and cook 30 minutes, or until broth is absorbed and barley is tender. Transfer to a mixing bowl.
In a skillet, heat 1 tablespoon of the oil over medium-high heat until hot. Add the mushrooms and sauté for 5 minutes or until browned. Add the mushrooms to the barley.
To the skillet, add the remaining 1 tablespoon of oil and heat until hot. Add the cauliflower and onion and saute for 8 minutes, stirring frequently.
Add the tomatoes. Reduce heat to medium-low, cover and simmer for 8 minutes.
Stir in the peppers; cover, and simmer for 5 minutes or until tender.
Stir the barley-mushroom mixture into the vegetable mixture. Add the chopped basil and cheese. Season with the salt and pepper to taste.
Cook for 1 minute more, or until heated through.
Serve garnished with basil sprigs.
Copyright 2020 © Baldwin Publishing, Inc. All rights reserved.
Health eCooking® is a registered trademark of Baldwin Publishing, Inc. Cook eKitchen™ is a designated trademark of Baldwin Publishing, Inc. Any duplication or distribution of the information contained herein without the express approval of Baldwin Publishing, Inc. is strictly prohibited.
Subscribe for Updates
Get stories & health tips every week