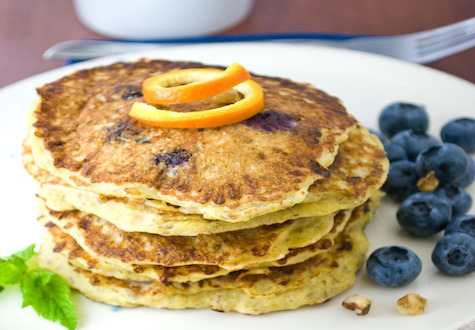 Recipe Review: Healthy Blueberry Pancakes
Pancakes are one of our favorite breakfast foods in our household. And we certainly love blueberry pancakes and pancakes with any sort of fresh fruit. Normally, we just use standard mixes that you can get at the grocery store. This healthy blueberry pancakes recipe looked intriguing, and it received high ratings, so we decided to give them a try.
I'm not a big fan of cottage cheese, so seeing it listed as one of the primary ingredients definitely made me a little hesitant. My wife was also skeptical that cottage cheese could work well in a pancake mix.
We had most of the ingredients in our kitchen already. I only had to pick up some flaxseed meal and cornmeal. Making the mix was easy, just like any other pancake mix. The trick was to use a blender or food processor; otherwise the cottage cheese curds wouldn't get blended enough.
The only change that we made to the recipe: We skipped adding the orange zest.
The Verdict
These healthy blueberry pancakes were a pleasant surprise! They tasted a lot better than we both expected, and the texture was very similar to a regular pancake.
Now that we have all of the ingredients, I think that we will be making these again very soon. The recipe only makes 4 pancakes, so next time I'll probably increase the portions.
Pros
Great taste
Easy to make
Healthy ingredients with a good amount of protein
Cons
Servings: 4
Nutrition Facts

Serving size: 2 pancakes
Calories: 171
Fat: 0g
Saturated Fat: 0g
Cholesterol: 48mg
Sodium: 212mg
Carbohydrates: 22g
Fiber: 5g
Protein: 10g
Ingredients
2/3 cup cottage cheese
1 egg
2 egg whites
2 Tbsp whole wheat flour
1/2 cup cornmeal
1 tsp baking powder
1 Tbsp sugar
1/3 cup 1% milk
2 Tbsp flax meal
1/2 tsp orange zest
1/2 cup blueberries
Directions
Lightly coat a griddle with nonstick cooking spray and preheat to 350°.
Place all ingredients except blueberries in a blender or food processor and blend for 5 to 10 seconds, or until combined. Add blueberries and fold in gently.
Pour pancake batter by 1/4 cupfuls onto the griddle and cook for approximately 2 minutes, or until bubbles form and the edges are cooked. Flip and cook for 2 minutes, or until the underside is lightly browned.
Serve immediately.
Copyright 2019 © Baldwin Publishing, Inc. All rights reserved.
Health eCooking® is a registered trademark of Baldwin Publishing, Inc. Cook eKitchen™ is a designated trademark of Baldwin Publishing, Inc. Any duplication or distribution of the information contained herein without the express approval of Baldwin Publishing, Inc. is strictly prohibited.
Subscribe for Updates
Get stories & health tips every week