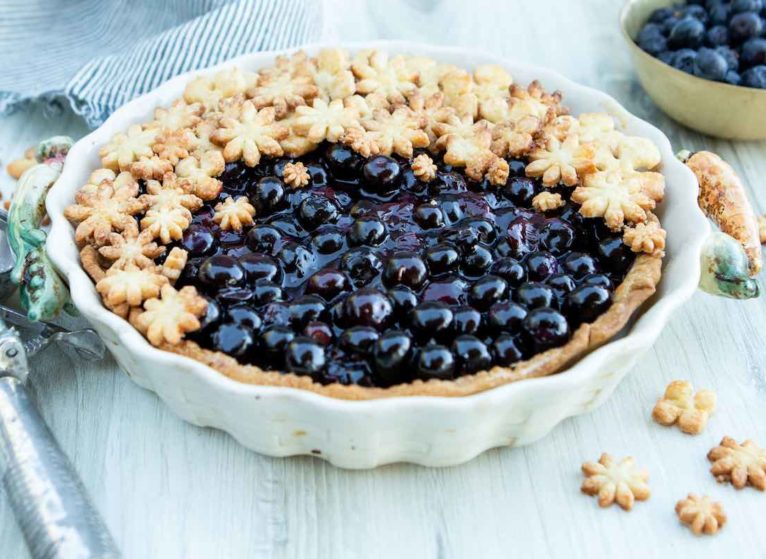 This delicious blueberry pie has fewer calories than the traditional version, with a single crust and very little added sugar. The "flowers" make a pretty topping and will remind you that spring is just around the corner.
Servings: 10
Nutrition Facts

Calories: 152
Fat: 5g
Saturated Fat: 2g
Cholesterol: 0mg
Sodium: 80mg
Carbohydrates: 25g
Fiber: 2g
Protein: 2g
Ingredients
Crust
3/4 cup all-purpose flour
1/4 cup ice water
1/2 tsp apple cider vinegar
3/4 cup whole wheat flour
1 tbsp confectioners' sugar
3/8 tsp salt
5 1/2 tbsp trans fat free vegetable shortening
Filling
3 cups fresh blueberries
2 tbsp granulated sugar
1 tbsp fresh lemon juice
2 tbsp cornstarch
Directions
Crust
In a small bowl, whisk together 1/2 cup of the all-purpose flour, ice water, and vinegar until well blended.

In a large bowl, combine the remaining 1/4 cup all-purpose flour, whole wheat flour, confectioners' sugar, and salt.

Cut in shortening with 2 knives until mixture resembles coarse meal.

Add vinegar mixture and toss with a fork until moist.

Press dough into a disk and chill, covered tightly with plastic wrap, for 10 minutes.

Preheat the oven to 425°.

Cut off one-third of the dough and return the remaining dough to the refrigerator.

Place the dough third between 2 pieces of parchment paper. Roll the dough out 1/4-inch thick and remove the top layer of paper.

Use a small flower-shaped cookie cutter to cut out flowers.

Slide the parchment paper onto a baking sheet and bake for 10 minutes.

Remove from oven and let cool on a wire rack. Set aside. Keep oven on.

On a lightly floured surface, roll out the remaining dough into a circle and press it into the bottom and sides of a 9-inch pie pan.

Crimp the edges. With a fork, prick the bottom of the crust a few times. Set aside.
Filling
In a medium bowl, combine blueberries, granulated sugar, lemon juice, lemon zest, and cornstarch. Mix gently until berries are evenly coated.

Pour the filling into the pie crust.

Bake for 20 to 22 minutes, until crust is golden and filling just begins to bubble.

Transfer to a wire rack to cool slightly. Top with the baked "flowers."

Serve warm or at room temperature.
Copyright 2021 © Baldwin Publishing, Inc. All rights reserved.
Health eCooking® is a registered trademark of Baldwin Publishing, Inc. Cook eKitchen™ is a designated trademark of Baldwin Publishing, Inc. Any duplication or distribution of the information contained herein without the express approval of Baldwin Publishing, Inc. is strictly prohibited.
Subscribe for Updates
Get stories & health tips every week