Buffalo Roasted Cauliflower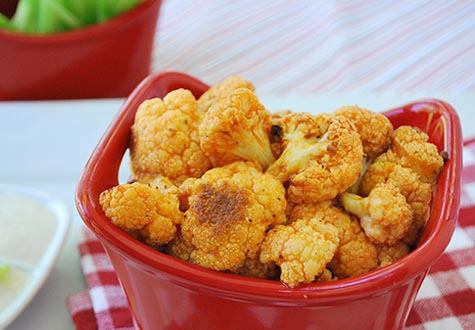 Recipe Review: Buffalo Roasted Cauliflower
We tend to eat foods with milder flavors around the holidays. If you're anything like me, that can leave you craving something spicy. That's why I decided to try this recipe for Buffalo Roasted Cauliflower — I could give in to my spicy craving with a healthy side dish.
I had almost everything I needed for this recipe already, I just needed to pick up a head of cauliflower. The prep took only about 5 minutes. I cut the cauliflower into florets and tossed it with olive oil and pepper while the oven preheated.
Forty-five minutes later, I pulled it out of the oven and tossed it with hot sauce and a little bit of butter. (The recipe calls for margarine, but since it was just 1 tbsp., I doubt it made much difference.)
The recipe calls for ¼ cup of hot sauce, and I used my personal favorite, and borderline obsession, Cholula Original. It packs a lot of flavor without being super hot.
The Verdict: Buffalo Roasted Cauliflower
We decided to serve this as a healthy appetizer and we loved it. The cauliflower was plenty tasty with just the buffalo sauce, so I didn't bother serving it with the ranch or blue cheese.
We'll definitely make this again, but with a few adjustments.
Pros
Spicy! (And you can make it as mild or spicy as you want, depending on your choice of hot sauce.)
Healthy!
Easy!
Cons
Not as crispy as we hoped.
Adjustments for Next Time
The flavor was fabulous, but I was hoping the cauliflower would crisp up more than it did. My sous chef (who's a much better cook than I am) suggested that next time we:
Roast the cauliflower at a higher heat for less time, perhaps 450° or 475° for 35 minutes.
Toss the cauliflower in melted margarine or butter prior to putting it in the oven. That might help it crisp up a little better.
The cauliflower naturally broke into smaller pieces as I tossed it in the hot sauce, so I will start with larger florets next time.
While it wouldn't be quite as healthy, I might also toss the cauliflower in panko or bread crumbs prior to roasting for a little extra crunch in the future.
If you're looking to spice up your holiday cooking, give this one a try, and let me know what you think!
Servings: 4
Nutrition Facts

Serving Size: 1/2 cup
Calories: 96
Fat: 5g
Saturated Fat: 0
Cholesterol: 1mg
Sodium: 645mg
Carbohydrates: 10g
Fiber: 3g
Protein: 3g
Ingredients
1 head cauliflower, cut into florets
1 Tbsp olive oil
Black pepper to taste
1/4 cup hot sauce
1 Tbsp trans fat free margarine, melted
1/4 cup reduced-fat blue cheese or ranch dressing
4 celery stalks, sliced into 3-inch sticks
Directions
Preheat oven to 425°.
In a large bowl, toss the cauliflower florets with the oil, and pepper. On a baking sheet, arrange the florets in a single layer. Roast, turning halfway through cooking, for 45 minutes, or until lightly golden. Transfer the cauliflower back to the large bowl.
Add the hot sauce and margarine to the cauliflower and toss to coat. Serve immediately with blue cheese dressing for dipping and celery sticks on the side.
Copyright 2016 © Baldwin Publishing, Inc. All rights reserved.
Health eCooking® is a registered trademark of Baldwin Publishing, Inc. Cook eKitchen™ is a designated trademark of Baldwin Publishing, Inc. Any duplication or distribution of the information contained herein without the express approval of Baldwin Publishing, Inc. is strictly prohibited.
Subscribe for Updates
Get stories & health tips every week