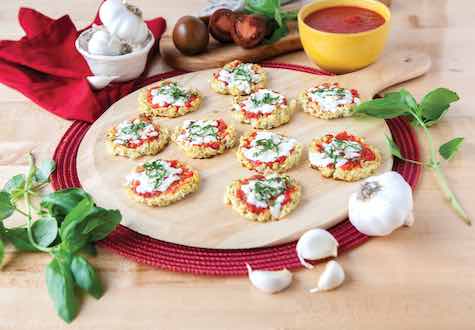 These light pizza bites have a cauliflower crust, making them low-calorie and a great appetizer for anyone who needs a gluten-free diet.
Servings: 16
Nutrition Facts

Calories: 26
Fat: 2g
Saturated Fat: 0g
Cholesterol: 27mg
Sodium: 75mg
Carbohydrates: 1g
Fiber: 1g
Protein: 2g
Ingredients
2 eggs
3 cups cauliflower rice
2 Tbsp almond flour
1 Tbsp coconut flour
1 garlic clove minced
1/4 tsp salt
Black pepper to taste
1 tsp Italian seasoning
1/4 tsp crushed red-pepper flakes
1/2 cup crushed tomatoes
1/8 tsp dried oregano
1/2 cup grated mozzarella cheese
2 Tbsp fresh basil leaves shredded
Directions
Preheat oven to 400°. Lightly coat a baking pan with nonstick cooking spray.
In a bowl, combine eggs, cauliflower rice, almond flour, coconut flour, garlic, 1/8 teaspoon of the salt, 1/4 teaspoon pepper, the Italian seasoning and red-pepper flakes.
Scoop 2 tablespoons cauliflower mixture per pizza bite, place on the baking pan, and press down to form crust. Repeat with remaining cauliflower mixture.
Bake for 25 to 30 minutes, until fully cooked and golden brown.
In a small bowl, combine the tomatoes, oregano, remaining 1/8 teaspoon salt and black pepper to taste. Top each cauliflower pizza with about 1 teaspoon of sauce and 1 teaspoon of cheese. Bake for 5 minutes, or until cheese is melted. Let sit for a few minutes.
With a metal spatula, gently remove the pizzas from the pan and transfer to a plate. Top with shredded fresh basil and serve immediately.
Copyright 2019 © Baldwin Publishing, Inc. All rights reserved.
Health eCooking® is a registered trademark of Baldwin Publishing, Inc. Cook eKitchen™ is a designated trademark of Baldwin Publishing, Inc. Any duplication or distribution of the information contained herein without the express approval of Baldwin Publishing, Inc. is strictly prohibited.
Subscribe for Updates
Get stories & health tips every week