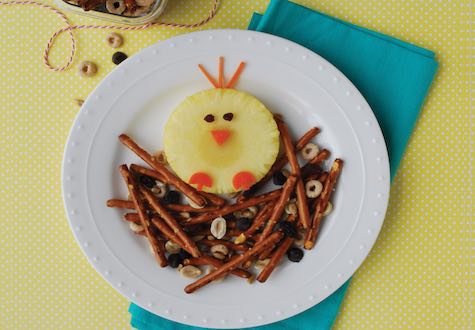 Before you head outside to enjoy some outdoor activities, serve up this fun, healthy trail mix. The sweet and salty healthy snack arranged as a baby chick will put a spring in your step and a smile on your face.
Servings: 6
Nutrition Facts

Calories: 169
Fat: 8g
Saturated Fat: 3g
Cholesterol: 0mg
Sodium: 74mg
Carbohydrates: 24g
Fiber: 1g
Protein: 4g
Ingredients
1 cup Cheerios®
1/3 cup raisins
1/3 cup unsalted dry-roasted peanuts or hulled sunflower seeds
1 cup pretzel sticks
1/3 cup dark chocolate chips
1 carrot, peeled
6 pineapples slices (1/2-inch thick)
Directions
In a large bowl, combine the Cherrios®, raisins, pretzels, peanuts and chocolate chips.
With a paring knife, cut the carrot in thin slices. From the slices, cut 18 sticks (about 2 inches each), 6 triangle shapes (for the chicks' beaks), and 12 semicircles (for the chicks' feet).
Arrange a pineapple slice on a plate. Use 2 chocolate chips for the chick's eyes, a carrot triangle for the nose, 2 carrot semicircles for the "feet," and 3 carrot sticks for the crown.
Arrange some trail mix under the pineapple slice so it resembles a nest.
Repeat with remaining pineapple slices, carrot pieces and trail mix.
Copyright 2020 © Baldwin Publishing, Inc. All rights reserved.
Health eCooking® is a registered trademark of Baldwin Publishing, Inc. Cook eKitchen™ is a designated trademark of Baldwin Publishing, Inc. Any duplication or distribution of the information contained herein without the express approval of Baldwin Publishing, Inc. is strictly prohibited.
Subscribe for Updates
Get stories & health tips every week