A Hint of Fall: Chicken Thighs with Apples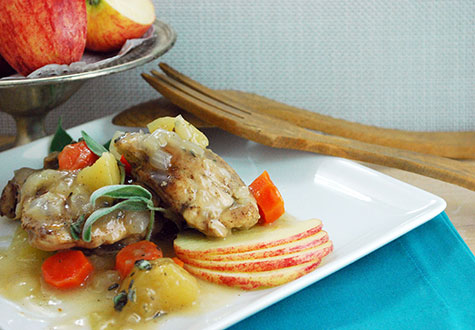 Celebrate fall by sparking up your next chicken dinner with this delicious chicken thighs recipe. These chicken thighs are baked in an apple cider sauce that makes them tender and juicy.
Servings: 8
Nutrition Facts

Serving size: 2/3 cup
Per Serving: Calories: 260 Fat: 8g Saturated Fat: 2g Cholesterol: 155mg Sodium: 235mg Carbohydrates: 13g Fiber: 1g Protein: 31g
Ingredients
1/2 tsp ground cinnamon
1/2 tsp ground ginger
1/8 tsp nutmeg
1/4 tsp salt
3 lbs boneless, skinless chicken thighs
2 tsp olive oil
1 medium onion finely chopped
2 large apples, peeled, cored and cut into 1-inch pieces
2 carrots, peeled and sliced in 1/4-inch-thick rounds
3/4 cup + 3 Tbsp apple cider
3/4 cup low-sodium chicken broth (gluten free if needed)
1 Tbsp honey
2 Tbsp cornstarch
1 tsp chopped fresh sage
Directions
Preheat the oven to 300°.
In a small bowl, combine the cinnamon, ginger, nutmeg and salt. Rub the spice mixture all over the chicken.
Lightly coat an ovenproof skillet with nonstick cooking spray and heat over medium-high heat until hot. Add chicken and cook until just browned, about 3 minutes on each side. Transfer chicken to a plate and set aside.
In the same skillet, add the oil and heat over medium-high heat until hot. Add the onion and sauté until softened, about 3 minutes. Add the apples and carrots and cook for 2 to 3 minutes, stirring. Add 3/4 cup of the apple cider, the broth and honey and bring to a boil. Add the browned chicken thighs. Cover the pan and transfer to the oven. Bake for about 1 hour, or until the chicken is cooked through and tender.
Transfer the chicken, apple pieces and carrots to a platter. Return the skillet to the stove, and bring the liquid remaining in skillet to a boil over high heat.
In a small bowl, whisk the remaining 3 tablespoons apple cider and the cornstarch until the cornstarch dissolves. Whisk the cornstarch mixture into the liquid in the pan and cook until liquid thickens. Remove the pan from the heat and pour sauce over chicken and apples. Garnish with sage.
Copyright 2018 © Baldwin Publishing, Inc. All rights reserved.
Health eCooking® is a registered trademark of Baldwin Publishing, Inc. Cook eKitchen™ is a designated trademark of Baldwin Publishing, Inc. Any duplication or distribution of the information contained herein without the express approval of Baldwin Publishing, Inc. is strictly prohibited.
Subscribe for Updates
Get stories & health tips every week