Chocolate Angel Food Cake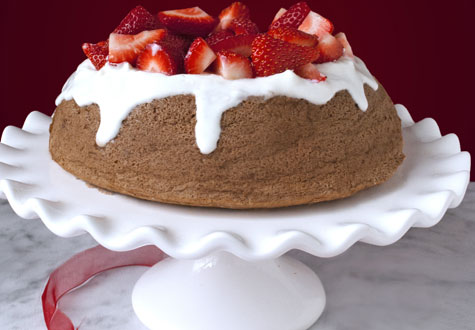 Here's a healthy angel food cake recipe that is light and airy. A touch of cocoa powder makes this healthy angel food cake a delicious low-fat chocolate dessert.
Servings: 12
Nutrition Facts

Serving size: 1 1-inch slices
Per Serving: Calories: 193
Fat: 1g
Saturated Fat: 0g
Cholesterol: 0mg
Sodium: 94mg
Carbohydrates: 42g
Fiber: 2g
Protein: 6g
Ingredients
1/2 cup all-purpose flour
1/2 cup whole wheat flour
1 1/2 cups sugar
1/4 cup unsweetened cocoa powder
1/2 tsp ground cinnamon
1/8 tsp salt
12 egg whites, at room temperature
2 tsp cream of tartar
1 cup low fat vanilla yogurt
1 qt strawberries, hulled and sliced
Directions
Preheat oven to 350°.
Lightly coat a 10-inch Bundt pan with nonstick cooking spray.
In a medium bowl, whisk together flours, 3/4 cup of the sugar, cocoa, cinnamon and salt.
In a large bowl, with a mixer on medium speed, beat the egg whites until frothy.
Add the cream of tartar and beat on high until blended.
Gradually add the remaining 3/4 cup sugar while beating until stiff peaks form.
Gradually fold in one-third of the flour mixture.
Fold in remaining flour mixture until blended.
Pour batter into Bundt pan.
Tap pan on counter to remove any air bubbles.
Bake for 30 to 35 minutes, or until a toothpick inserted toward the center comes out clean.
Cool, inverted, for 1 hour. Run a knife along the sides of the pan and invert onto a serving plate.
Serve with a dollop of yogurt and some strawberries.
Copyright 2018 © Baldwin Publishing, Inc. All rights reserved.
Health eCooking® is a registered trademark of Baldwin Publishing, Inc. Cook eKitchen™ is a designated trademark of Baldwin Publishing, Inc. Any duplication or distribution of the information contained herein without the express approval of Baldwin Publishing, Inc. is strictly prohibited.
Subscribe for Updates
Get stories & health tips every week