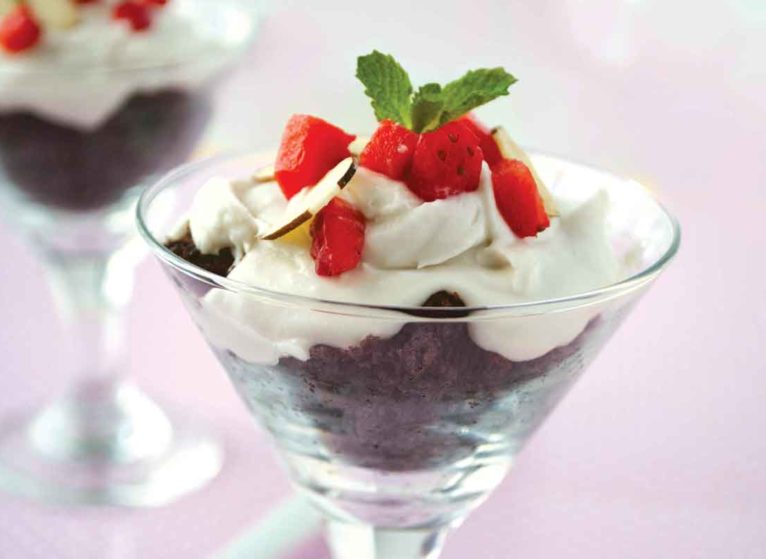 These chocolate parfaits are a perfect little bit of sweetness for fewer than 175 calories. As pretty as they are delicious, these parfaits will impress your guests.
Servings: 1 parfait
Nutrition Facts

Calories: 174
Fat: 6g
Saturated Fat: 4g
Cholesterol: 16mg
Sodium: 296mg
Carbohydrates: 27g
Fiber: 3g
Protein: 3g
Ingredients
3/4 cup whole wheat flour
3/4 cup all-purpose flour
1/3 cup unsweetened cocoa powder
2 tbsp sugar
1 tsp baking soda
2 tbsp maple syrup
1/4 tsp salt
4 tbsp unsalted butter, melted
1 cup cold coffee
1/2 tsp almond extract
1/2 cup nonfat whipped topping
1/4 cup sliced strawberries
1 tbsp sliced almonds
Directions
Preheat oven to 350°. Coat an 11 x 9-inch pan with nonstick cooking spray and line with a sheet of parchment paper.
In a large bowl, mix together the flours, cocoa, sugar, baking soda, maple syrup, and salt. In a separate bowl, whisk together the margarine, coffee, and almond extract. Add the wet ingredients to the dry ingredients and whisk until smooth.
Spread the dough into the pan. Bake for 15 minutes, or until the cake springs back to the touch. When cool, remove the cake from the pan and crumble.
In each of 8 small glasses, spoon 3 tablespoons of crumbled cake. Dollop some whipped topping on top of the cake crumbles. Top with sliced strawberries and almonds.
© Baldwin Publishing, Inc. ® Health eCooking is a registered trademark of Baldwin Publishing, Inc. No information provided in any recipe and/or other product or service is a substitute for professional medical advice and should not be interpreted as treatment recommendations. ALWAYS SEEK THE ADVICE OF A PHYSICIAN OR OTHER QUALIFIED HEALTH PROVIDER WITH ANY QUESTIONS REGARDING A MEDICAL CONDITION.
Subscribe for Updates
Get stories & health tips every week