Egg, Bacon and Grits Bowl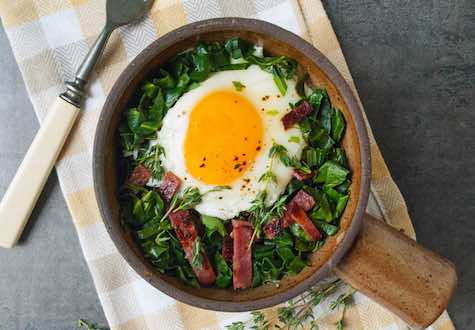 If you love grits as a classic southern breakfast, then you'll be pleased with this hearty, healthy grits bowl topped with greens and bacon. Each serving is packed with protein, fiber and Southern goodness. You can make this recipe in advance for a busy morning or enjoy for Sunday brunch.
Nutrition Facts

Calories: 215
Fat: 9g
Saturated Fat: 2g
Cholesterol: 190mg
Sodium: 356mg
Carbohydrates: 21g
Fiber: 4g
Protein: 12g
Ingredients
3/4 tsp salt
1 cups uncooked grits
1/4 tsp black pepper
2 tbsp olive oil
4 slices turkey bacon
2 lbs collard greens, stemmed and roughly chopped
1 tsp chopped fresh tarragon
1 tsp chopped fresh sage
8 eggs
1 tsp fresh thyme
Directions
Preheat oven to 400°.
Lightly coat 8 large ramekins with nonstick cooking spray and arrange ramekins on a large rimmed baking sheet; set aside.
In a medium pot, bring 3 cups water and 1/2 teaspoon of the salt to a boil.
Add grits and return to a boil. Reduce heat to medium-low and simmer, stirring often, until thick and creamy, about 10 to 15 minutes.
Add the pepper and 1 tablespoon of the olive oil.
Divide grits among the prepared ramekins.
Meanwhile, in a large skillet, cook the bacon over medium heat, turning occasionally, until just crisp, about 6 to 8 minutes.
Remove the bacon from skillet; chop and set aside.
Add the remaining 1 tablespoon oil to the skillet. Add the collard greens, tarragon and sage and cook, tossing often, until wilted and just tender, about 5 minutes.
Arrange the collard greens on top of the grits. Top the greens with the chopped bacon.
Crack an egg into the center of each ramekin.
Bake for 15 minutes, or until whites are almost set.
Top with the thyme and serve.
Copyright 2019 © Baldwin Publishing, Inc. All rights reserved.
Health eCooking® is a registered trademark of Baldwin Publishing, Inc. Cook eKitchen™ is a designated trademark of Baldwin Publishing, Inc. Any duplication or distribution of the information contained herein without the express approval of Baldwin Publishing, Inc. is strictly prohibited.
Subscribe for Updates
Get stories & health tips every week