Grilled Flank Steak Salad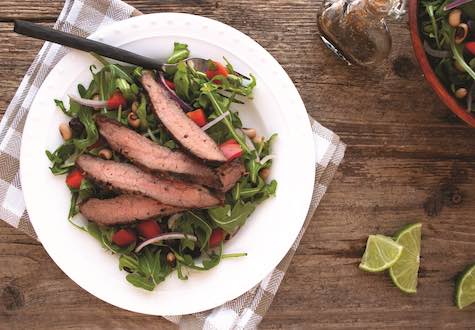 Here's a delicious meal of succulent grilled steak and refreshing spinach and bean salad that will keep both meat and veggie-lovers happy and healthy. This quick, easy steak dinner will dress up your next cookout.
Servings: 10
Nutrition Facts

Calories: 213
Fat: 9g
Saturated Fat: 3g
Cholesterol: 32mg
Sodium: 86mg
Carbohydrates: 11g
Fiber: 3g
Protein: 23g
Ingredients
2 lbs flank steak
4 tbsp cracked peppercorns
1 tbsp olive oil
3 tbsp balsamic vinegar
3 garlic cloves, minced
2 tbsp fresh lime juice
2 tsp honey
1/8 tsp salt
Black pepper to taste
1 medium red bell pepper, sliced into 1-inch pieces
1 cup canned black beans, rinsed and drained
1 cup canned black-eyed peas, rinsed and drained
1 red onion, thinly sliced
6 oz baby spinach or arugula
Directions
Lightly tenderize steak with a mallet.
Dust steak with cracked peppercorns. Press peppercorns into the steak with the palm of your hand.
Lightly coat a grill rack with nonstick cooking spray. Preheat grill to high.
Grill steak for 10 to 15 minutes for medium-rare, or until desired doneness, turning halfway through cooking time.
Remove steak from grill and let rest for 5 minutes. Cut diagonally across the grain into thin slices.
Make dressing: In a small bowl, whisk together olive oil, vinegar, garlic, lime juice, honey, salt and black pepper.
In a large bowl, combine bell pepper, black beans, black-eyed peas, onion and spinach. Toss with the dressing to combine.
Transfer salad to a platter and top with sliced steak.
Copyright 2019 © Baldwin Publishing, Inc. All rights reserved.
Health eCooking® is a registered trademark of Baldwin Publishing, Inc. Cook eKitchen™ is a designated trademark of Baldwin Publishing, Inc. Any duplication or distribution of the information contained herein without the express approval of Baldwin Publishing, Inc. is strictly prohibited.
Subscribe for Updates
Get stories & health tips every week