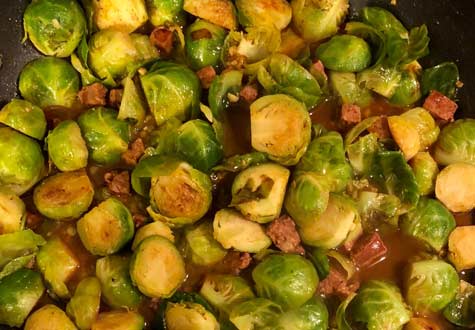 It's cozy and simple with a hint of kick thanks to the paprika and smoky chorizo. This Brussels sprouts recipe is a delicious healthy addition to the carbohydrate- and cheese-heavy dishes that will be around the table this Thanksgiving!
This is the perfect side dish to volunteer to bring, as it looks good, tastes great and takes about 15 minutes to make. The biggest compliment I can give is I ate these Brussels sprouts for leftovers two nights in a row. I'm a leftover hater — that says a lot.
The Pros and Cons of Garlic Brussels Sprouts
Positives
This requires limited ingredients and very little time! We all know the struggle of meal prepping and time management, especially when cooking for a holiday. I love a recipe that uses ingredients I usually have and can be made ahead while still packing lots of flavor.
Negatives
It is very paprika heavy, calling for 2 teaspoons when I would recommend only one. While it doesn't ruin the dish, as the chorizo and garlic help balance out the flavors, it is a little overwhelming.
The Verdict
I will definitely make this again, as I enjoyed it multiple days in a row, but there are some slight changes I'll make:
Cutting the paprika back to 1 teaspoon will help with the intensity of that flavor.
Personally, I like my Brussels sprouts a little crispy on the outside. So after they cook in the chicken broth, I'll probably try to crisp up the brussels over the stove or in the oven on broil.
This holiday season, give these tasty garlicky greens a chance and prove to your family you know your way around the kitchen!
Servings: 8
Nutrition Facts

Serving size: 1/2 cup
Per Serving: Calories: 95
Fat: 4g
Saturated Fat: 1g
Cholesterol: 3mg
Sodium: 211mg
Carbohydrates: 10g
Fiber: 4g
Protein: 5g
Ingredients
1 tsp plus 1 Tbsp olive oil
2 oz Spanish chorizo diced (gluten free if needed)
2 lbs medium Brussels sprouts trimmed and halved
4 large garlic cloves minced
2 tsp paprika
1/8 tsp salt
Black pepper to taste
1 cup reduced-sodium chicken stock (gluten free if needed)
Directions
In a nonstick skillet over medium heat, heat 1 teaspoon of the olive oil.
Add the chorizo and cook for 3 minutes, stirring occasionally. Transfer to a plate.
Add remaining 1 tablespoon olive oil and Brussels sprouts to the pan, cut side down.
Cook for 3 minutes, without stirring.
Stir in minced garlic and cook for 1 minute.
Stir in paprika, salt and pepper to taste.
Add the chicken stock, cover partially and cook for 3 minutes.
Stir in the chorizo.
Serve warm.
Copyright 2018 © Baldwin Publishing, Inc. All rights reserved.
Health eCooking® is a registered trademark of Baldwin Publishing, Inc. Cook eKitchen™ is a designated trademark of Baldwin Publishing, Inc. Any duplication or distribution of the information contained herein without the express approval of Baldwin Publishing, Inc. is strictly prohibited.
Subscribe for Updates
Get stories & health tips every week