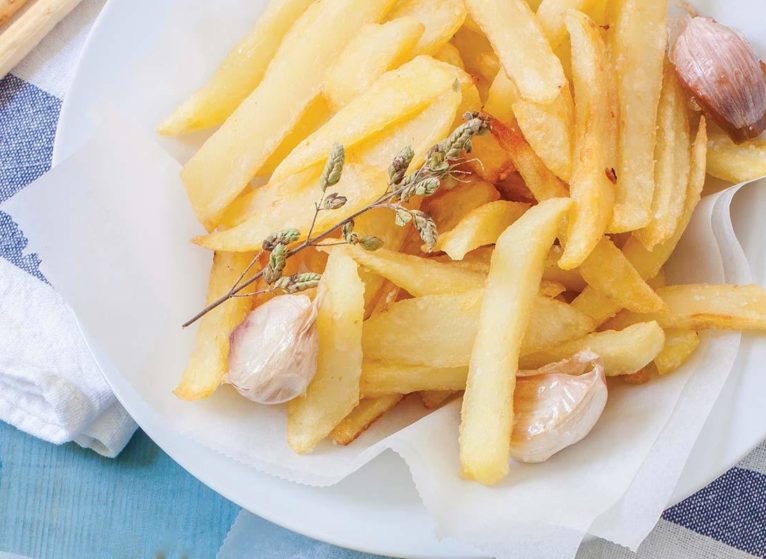 Sure to become a family favorite, these easy-to-make, crispy fries are great with burgers or on their own as a snack. Make sure to serve them while they're hot.
Servings: 12
Nutrition Facts

Serving size: 1/2 cup
Calories: 131
Fat: 2g
Saturated Fat: 1g
Cholesterol: 6mg
Sodium: 136mg
Carbohydrates: 24g
Fiber: 3g
Protein: 3g
Ingredients
3 lbs baking potatoes, scrubbed and cleaned
1 Tbsp olive oil
1/2 tsp salt
2 Tbsp unsalted butter
6 garlic cloves, minced
2 Tbsp finely chopped fresh parsley
2 Tbsp grated Parmesan cheese
Directions
Preheat oven to 400°.
Slice potatoes into 1/4-inch thick sticks.
Lightly coat a baking sheet with olive oil cooking spray.
Combine potatoes, oil, and salt in a large zip-top plastic bag.  Toss to coat.
On baking sheet, arrange potatoes in a single layer and spray with olive oil cooking spray.
Bake for 1 hour, or until potatoes are tender and golden brown, turning about halfway through baking.
In a large skillet; melt butter.
Add garlic and cook over low heat for 2 minutes, stirring constantly.
Add potatoes, parsley, and cheese to pan. Toss to coat.
Serve immediately.
© Baldwin Publishing, Inc. ® Health eCooking is a registered trademark of Baldwin Publishing, Inc. No information provided in any recipe and/or other product or service is a substitute for professional medical advice and should not be interpreted as treatment recommendations. ALWAYS SEEK THE ADVICE OF A PHYSICIAN OR OTHER QUALIFIED HEALTH PROVIDER WITH ANY QUESTIONS REGARDING A MEDICAL CONDITION.
Subscribe for Updates
Get stories & health tips every week