Gluten-Free Chocolate Cupcakes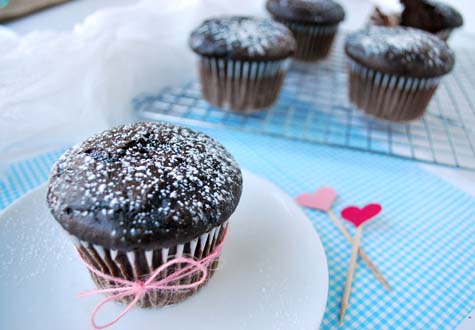 "Chocolatey." "Delicious." "Incredible." And finally, "weird."
Those were some of the words my co-workers used to describe these gluten-free, diabetic-friendly cupcakes, which I made for yet another office potluck.
Cupcake Ingredient Shopping
The recipe allows either chopped bittersweet chocolate or semisweet chocolate chips. When I was buying the ingredients, I realized the two options have the same amount of sugar.
So I opted for chocolate chips. Why do more work than you have to?
Beware of Trans Fats: Check the Label on Your Margarine
The recipe's ingredients specify trans-fat-free margarine. That makes sense, since the American Heart Association notes that "eating trans fats increases your risk of developing heart disease and stroke."
But I didn't think I had to worry, since the margarine I was buying said "0 grams of trans fats per serving!" on the package.
Not so fast. Katherine Basbaum, a registered dietitian in the Heart and Vascular Center, warns us to read the margarine ingredients, not the marketing claims on the front of the package. The words "hydrogenated" or "partially hydrogenated" are an indicator of trans fans. But the FDA allows companies to round down if the food has less than 0.5 grams of sugar. So, the margarine I used did indeed contain trans fats.
Making the Cupcakes
First, a word of caution: I failed to read the directions in advance. So I didn't realize the separated eggs were supposed to be room temperature. I let them sit for about 20 minutes after separating them, but they were still cooler than they should have been.
Besides that, these were pretty easy to make. I risked salmonella and sampled the batter before I put the cupcakes on, and it was yummy, with a light texture and rich taste.
Since my oven tends to run hot, I watched them carefully and took them out after about 22 minutes, instead of the suggested 25. I inserted a toothpick into one, and it came out clean.
The cupcakes looked fluffy and full at first, but within a few minutes, I started to understand why the recipe warns "their centers may sink." They shrunk inwards and looked much smaller than traditional cupcakes.
In hindsight, I made more the 18 cupcakes the recipe is supposed to make, because it seemed like I had extra batter. I suggest sticking with 18. The cakes won't rise the way flour cupcakes would, so don't worry about overfilling the lined cups.
They also seemed more moist than most, which makes sense since they're mostly egg. But that also meant that the powdered sugar on top turned into a shiny glaze, which one colleague said was "weird."
The Verdict: Gluten-Free Chocolate Cupcakes
I was pretty disappointed. The cupcakes tasted good but were small and shrunken, peeled from their paper liners. First, I shared them with just my colleagues on the blog team, expressing reservations about their potluck worthiness. They told me they liked the cupcakes and to stop obsessing.
The feedback from the rest of the department was even nicer. Everyone seemed to enjoy them, and there weren't many left over. Nobody seemed to miss the frosting.
I probably won't make this recipe again unless I'm baking for someone with diabetes or a gluten intolerance. But if you are, this is a yummy option. Just fill the cups up all the way.
Servings: 18
Nutrition Facts

Calories: 134
Fat: 10g
Saturated Fat: 4g
Cholesterol: 62mg
Sodium: 54mg
Carbohydrates: 9g
Fiber: 1g
Protein: 2g
Ingredients
8 oz bittersweet chocolate, coarsely chopped (or 1 1/2 cups semisweet chocolate chips)
6 Tbsp trans fat free margarine
6 large eggs, separated, at room temperature
1/4 cup granulated sugar
2 Tbsp confectioners sugar
Directions
Preheat oven to 275°. Line 18 cups of two 12-cup muffin pans with paper liners.
In a microwave-safe bowl, combine chocolate and margarine. Microwave on high for 30 seconds, stir, and continue to microwave at 10-second intervals until melted. Add the egg yolks to the melted chocolate and whisk to combine. Set aside.
With an electric mixer, whisk egg whites on medium speed until soft peaks form. Gradually add granulated sugar, beating until peaks are stiff and glossy but not dry (do not overbeat). Whisk one-third of the beaten egg whites into the chocolate mixture.
Gently fold the chocolate-egg white mixture into remaining whites.
With an ice-cream scoop, divide batter evenly among 18 lined cups, filling each three-quarters full. Bake, rotating pans halfway through, until cupcakes are just set in centers, about 25 minutes. Transfer pans to wire racks to cool completely before removing cupcakes (their centers may sink). Sprinkle with confectioners sugar.
Copyright 2018 © Baldwin Publishing, Inc. All rights reserved.
Health eCooking® is a registered trademark of Baldwin Publishing, Inc. Cook eKitchen™ is a designated trademark of Baldwin Publishing, Inc. Any duplication or distribution of the information contained herein without the express approval of Baldwin Publishing, Inc. is strictly prohibited.
Subscribe for Updates
Get stories & health tips every week