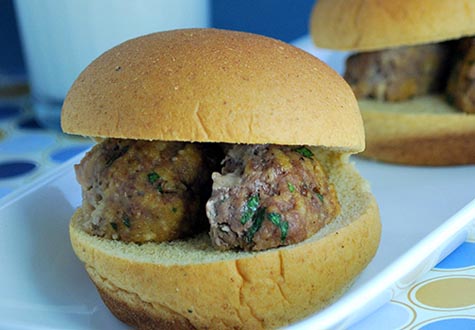 Servings: 12
Nutrition Facts

Serving Size: 1 sandwich
Calories: 173
Fat: 5g
Saturated Fat: 1g
Cholesterol: 16mg
Sodium: 249mg
Carbohydrates: 20g
Fiber: 2g
Protein: 12g
Ingredients
1/4 cup finely crushed panko bread crumbs
1 Tbsp chopped fresh flat-leaf parsley
1 large egg, lightly beaten
1 1/2 tsp olive oil
1 Tbsp ketchup
2 Tbsp grated Parmesan cheese
1/4 tsp onion powder
1 garlic clove, minced
1/8 tsp salt
1/4 tsp black pepper
8 oz ground beef (95-percent lean)
12 whole wheat dinner rolls (2 1/2-inch diameter), halved
Directions
Preheat oven to 375°. Line a baking sheet with parchment paper and set aside.
In a medium bowl, stir together the panko, parsley, egg, oil, ketchup, cheese, onion powder, garlic, salt and pepper. Add the ground beef and gently stir to combine. Roll the meat into 12 meatballs.
Arrange the meatballs on the prepared baking sheet and bake until cooked through, about 15 minutes. Cool for 10 minutes.
Slice a meatball in half and arrange 2 meatball halves on the bottom half of a roll. Top with top half of roll. Repeat with remaining meatballs and rolls.
Serve immediately with additional ketchup, if desired.
Copyright 2016 © Baldwin Publishing, Inc. All rights reserved.
Health eCooking® is a registered trademark of Baldwin Publishing, Inc. Cook eKitchen™ is a designated trademark of Baldwin Publishing, Inc. Any duplication or distribution of the information contained herein without the express approval of Baldwin Publishing, Inc. is strictly prohibited.
Subscribe for Updates
Get stories & health tips every week