Mustard-Rubbed Whole Roasted Chicken for National Chicken Month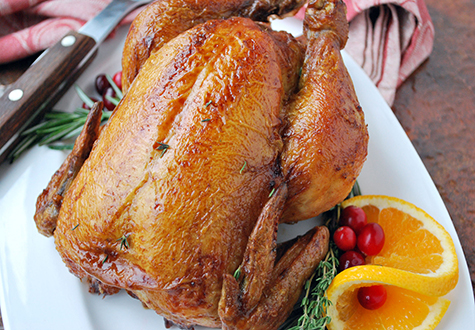 September is National Chicken Month! For a roasted chicken that is juicy and tender, try this delicious recipe. This easy buttermilk marinade works for any poultry. Try it on chicken or turkey.
Nutrition Facts

Serving size: 4 oz white meat
Per Serving: Calories: 189 Fat: 4g Saturated Fat: 1g Cholesterol: 97mg Sodium: 84mg Carbohydrates: 0g Fiber: 0g Protein: 35g
Ingredients
Mustard Rub
2 Tbsp Dijon mustard
1 Tbsp paprika
1 Tbsp onion powder
1 tsp black pepper
1 tsp garlic powder
1 tsp white pepper
Marinade
2 cups water
3 Tbsp honey
Peel from 1 orange
6 garlic cloves
2 Tbsp black peppercorns
4 sprigs rosemary
2 sprigs thyme
1 qt reduced fat buttermilk
Chicken
1 whole chicken about (3 lbs)
Directions
Mustard Rub: In a small bowl, combine all mustard rub ingredients. Set aside.
Marinade 
In a small pot, place water, honey, orange peel, garlic, peppercorns, rosemary and thyme. Bring to a boil. Turn off heat and allow to cool to room temperature, about 1 hour. Stir in buttermilk.
Rinse chicken and pat dry. Place in a small bucket or deep baking dish, pour buttermilk marinade over chicken, cover and let marinate, chilled, overnight, or at least 8 hours.
Remove chicken from marinade, rinse, pat dry and let sit for 1 hour at room temperature. Coat chicken with mustard rub.
Chicken
Preheat oven to 400°.
On a flat surface, arrange chicken, breast side up, legs facing you. Place kitchen twine under the legs and pull up around the legs to tie legs together. Flip chicken over, with breast side down and legs facing you. Pull twine around wings and tie together. Place chicken on a rack in a roasting pan. Insert a meat thermometer in the thickest part of the thigh. Make a triangle-shaped piece of foil and cover chicken breast.
Bake for 30 minutes. Pull chicken out of oven, remove foil and baste chicken with any pan juices. Reduce oven temperature to 325° and roast for another 30 to 45 minutes, or until temperature reads 165°. Let sit for 15 minutes before serving. Remove skin and serve.
Copyright 2018 © Baldwin Publishing, Inc. All rights reserved.
Health eCooking® is a registered trademark of Baldwin Publishing, Inc. Cook eKitchen™ is a designated trademark of Baldwin Publishing, Inc. Any duplication or distribution of the information contained herein without the express approval of Baldwin Publishing, Inc. is strictly prohibited.
Subscribe for Updates
Get stories & health tips every week