National Fried Chicken Day: Try Crispy Southern Chicken Instead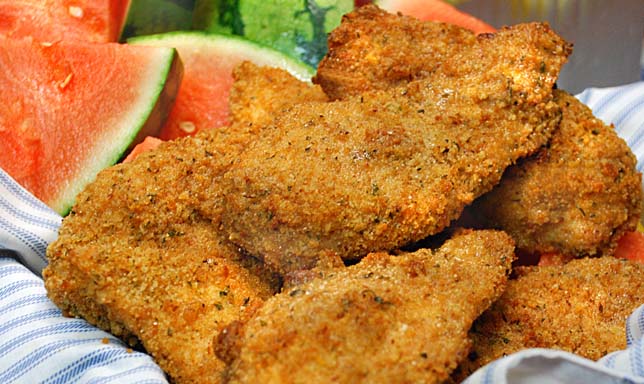 Yes, Virginia, there is a National Fried Chicken Day, and it's today! I'm usually not too excited about chicken, but it's hard to resist when it's coated in a salty crackly crunch. But that same flavor and crunch comes with some health concerns.
A Healthier National Fried Chicken Day Recipe
Fried chicken is "one of those foods that tends to be overindulged in, because it satisfies a lot of cravings at once — for something salty, crunchy, and greasy," says Katherine Basbaum, a registered dietitian with the Heart and Vascular Center. "But eating fried chicken (or other fried foods for that matter) on a regular basis can put you at increased risk of developing chronic conditions such as heart disease, high cholesterol, high blood pressure and obesity."
Instead, try this recipe for crispy southern chicken. Basbaum explains what makes it better for you:
It's baked, not fried. That saves you a lot of calories, because you're not cooking it in vegetable oil. But it's still got that crispy crunchy outside and juicy tender chicken inside, so it's a win-win.

Traditional fried chicken recipes tend to be quite high in sodium, usually due to salt added to the marinade. This one calls for only ½ teaspoon salt for the entire recipe. A piece of this healthier crispy chicken contains 60 percent less sodium than what you'd find in a traditional fried chicken breast — in looking at a few classic recipes, generally over 1000 mg sodium in one piece of fried chicken. And because this recipe uses several herbs and spices like paprika and garlic, there is no loss of flavor.

It uses skinless chicken, which means you are getting a lot less saturated fat (the kind that can raise your bad cholesterol).
Nutrition Facts

Calories: 256
Fat: 5g
Saturated Fat: 1g
Cholesterol: 79mg
Sodium: 462mg
Carbohydrates: 16g
Fiber: 1g
Protein: 35g
Ingredients
1 cup low fat plain Greek yogurt (gluten free if needed)
1 tsp dried thyme
1 garlic clove minced
1 tsp paprika
1/4 tsp cayenne pepper
1/2 tsp salt
6 boneless, skinless chicken breast halves or 6 boneless, skinless chicken thighs (1 3/4 to 2 lb)
1 Tbsp trans fat free margarine melted
1 cup seasoned bread crumbs or panko bread crumbs
Directions
1. In a large bowl, combine the yogurt, thyme, garlic, paprika, cayenne and salt and mix well. Add the chicken and coat it with the mixture. Marinate the chicken, covered and refrigerated, for 2 hours or overnight.
2. Preheat the oven to 400°.
3. Lightly coat a shallow roasting pan with nonstick cooking spray. In a shallow dish, combine the margarine and bread crumbs. Dredge the chicken in the bread crumbs, shaking off the excess. Transfer the coated chicken pieces to the pan.
4. Bake chicken breasts for 25 minutes and thighs for 30 to 35 minutes, or until tender.
Copyright 2016-2018 © Baldwin Publishing, Inc. All rights reserved.
Health eCooking® is a registered trademark of Baldwin Publishing, Inc. Cook eKitchen™ is a designated trademark of Baldwin Publishing, Inc. Any duplication or distribution of the information contained herein without the express approval of Baldwin Publishing, Inc. is strictly prohibited.
Subscribe for Updates
Get stories & health tips every week