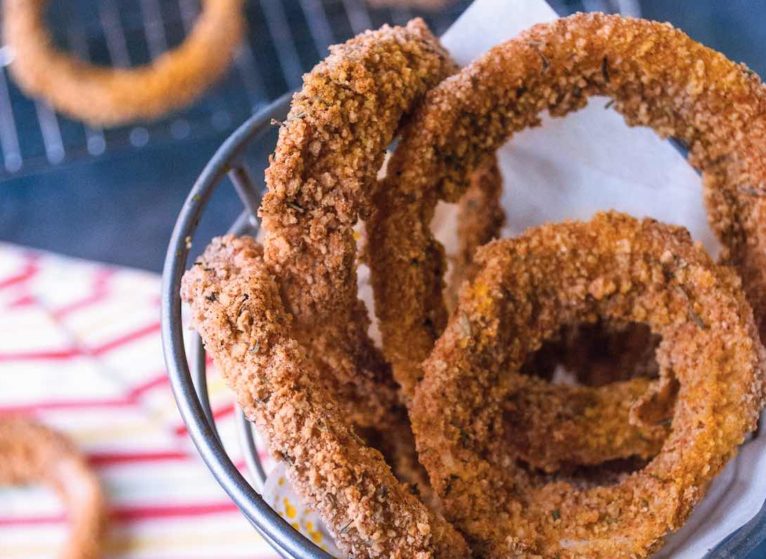 Swap out your French fries for something healthier and just as tasty. These onion rings are baked instead of fried, so they're low-fat and low-calorie. A bit of cooking spray added just before baking makes them so crispy you'll never miss the deep fryer.
Servings: 8
Nutrition Facts

Serving Size: 4 onion rings
Calories: 109
Fat: 1g
Saturated Fat: 0g
Cholesterol: 0mg
Sodium: 104mg
Carbohydrates: 22g
Fiber: 1g
Protein: 4g
Ingredients
1 lb sweet onion
3/4 cup all-purpose flour
2 tsp baking powder
3 egg whites
1/4 cup cornmeal
3/4 cup dry panko bread crumbs
1/4 tsp salt
2 tsp dried thyme
1 tsp paprika
1/8 tsp black pepper
1/4 tsp cayenne pepper (optional)
Directions
Preheat oven to 400°. Place a wire rack on top of a baking sheet.
Cut off ends of each onion and peel. Slice onions into 1/2-inch-thick slices and separate into rings. Place onion rings in bowl and cover with ice water. Soak for 30 minutes. Drain.
In a large plastic bag, combine flour and baking powder. Add onion rings to bag and shake to coat with flour mixture. Remove from bag, shaking off the excess. Set aside.
In a shallow bowl, beat egg whites until foamy. In another shallow bowl, combine cornmeal, panko bread crumbs, salt, thyme, paprika, black pepper and cayenne (if using). Working with one ring at a time, dip the onion ring into the egg whites. Then dip in bread crumb mixture to coat evenly, shaking off the excess. Arrange coated onion rings in a single layer on rack on baking sheet.
Generously coat onion rings with olive oil cooking spray. Bake for 25 to 30 minutes, turning halfway through cooking, or until golden and crisp. Serve immediately.
© Baldwin Publishing, Inc. ® Health eCooking is a registered trademark of Baldwin Publishing, Inc. No information provided in any recipe and/or other product or service is a substitute for professional medical advice and should not be interpreted as treatment recommendations. ALWAYS SEEK THE ADVICE OF A PHYSICIAN OR OTHER QUALIFIED HEALTH PROVIDER WITH ANY QUESTIONS REGARDING A MEDICAL CONDITION.
Subscribe for Updates
Get stories & health tips every week