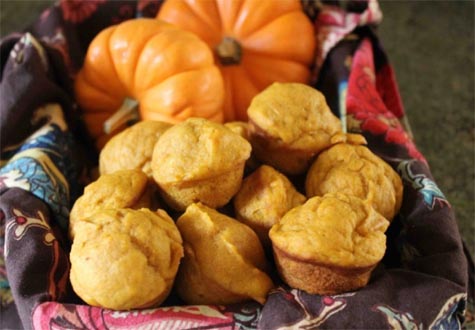 Servings: 12
Nutrition Facts

Serving Size: 1 muffin
Calories: 183
Fat: 2g
Saturated Fat: 1g
Cholesterol: 55mg
Sodium: 224mg
Carbohydrates: 25g
Fiber: 2g
Protein: 4g
Ingredients
1/3 cup canned pumpkin
1/3 cup canola oil
1/3 cup applesauce
1/2 cup sugar
4 eggs
1 cup all-purpose flour
1 cup whole wheat flour
1/2 tsp nutmeg
2 tsp ground cinnamon
1/2 tsp ground cloves
1 tsp baking soda
1 tsp baking powder
1/8 tsp salt
Directions
Preheat oven to 350˚. Lightly coat a muffin pan with nonstick cooking spray.
In a large bowl, beat pumpkin, oil, applesauce, sugar and eggs until creamy. In a medium bowl, combine flours, nutmeg, cinnamon, cloves, baking soda, baking powder and salt. Add flour mixture to creamed mixture and stir to combine.
Fill 12 muffin cups 3/4 full. Bake for 20 to 25 minutes, or until a toothpick inserted in the center of a muffin comes out clean and the tops are lightly browned. Remove muffins from pan and transfer to a wire rack to cool completely.
Copyright 2016 © Baldwin Publishing, Inc. All rights reserved.
Health eCooking® is a registered trademark of Baldwin Publishing, Inc. Cook eKitchen™ is a designated trademark of Baldwin Publishing, Inc. Any duplication or distribution of the information contained herein without the express approval of Baldwin Publishing, Inc. is strictly prohibited.
Subscribe for Updates
Get stories & health tips every week