Recipe: Healthy Peanut Butter Dip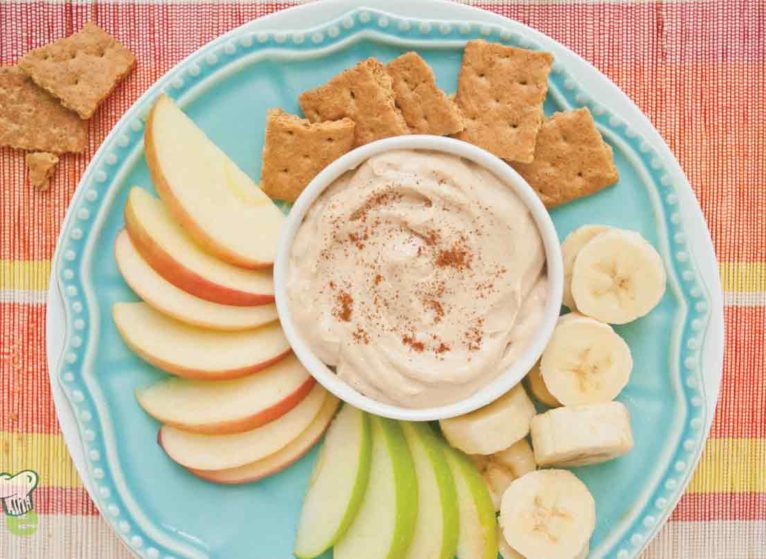 Here's a healthy snack you can make in minutes. Serve this delicious peanut butter dip with sliced apples, bananas, or low-fat graham crackers (gluten free, if needed). It comes loaded with protein and not a lot of fat and sugar, thanks to a couple of secret ingredients.
Servings: 6
Nutrition Facts

Serving size: 1/4 cup
Calories: 142
Fat: 8g
Saturated Fat: 1g
Cholesterol: 1mg
Sodium: 107mg
Carbohydrates: 10g
Fiber: 2g
Protein: 10g
Ingredients
2/3 cup firm tofu, crumbled
2/3 cup low-fat cottage cheese
4 Tbsp creamy peanut butter
2 Tbsp honey
1 tsp vanilla extract
1/2 tsp ground cinnamon
Apple or banana slices or low-fat graham crackers (optional)
Directions
In a blender or food processor, add the tofu, cottage cheese, peanut butter, honey, and vanilla.
Blend until smooth and creamy, about 3 to 5 minutes.
Cover with plastic wrap and chill for 30 minutes.
Sprinkle with cinnamon. Serve with apple and banana slices, or low-fat graham crackers, if desired.
Copyright 2022 © Baldwin Publishing, Inc. All rights reserved.
Health eCooking® is a registered trademark of Baldwin Publishing, Inc. Cook eKitchen™ is a designated trademark of Baldwin Publishing, Inc. Any duplication or distribution of the information contained herein without the express approval of Baldwin Publishing, Inc. is strictly prohibited.
No information provided in any recipe and/or other product or service is a substitute for professional medical advice and should not be interpreted as treatment recommendations. ALWAYS SEEK THE ADVICE OF A PHYSICIAN OR OTHER QUALIFIED HEALTH PROVIDER WITH ANY QUESTIONS REGARDING A MEDICAL CONDITION.
Subscribe for Updates
Get stories & health tips every week