Recipe: Mac and Cheese Bites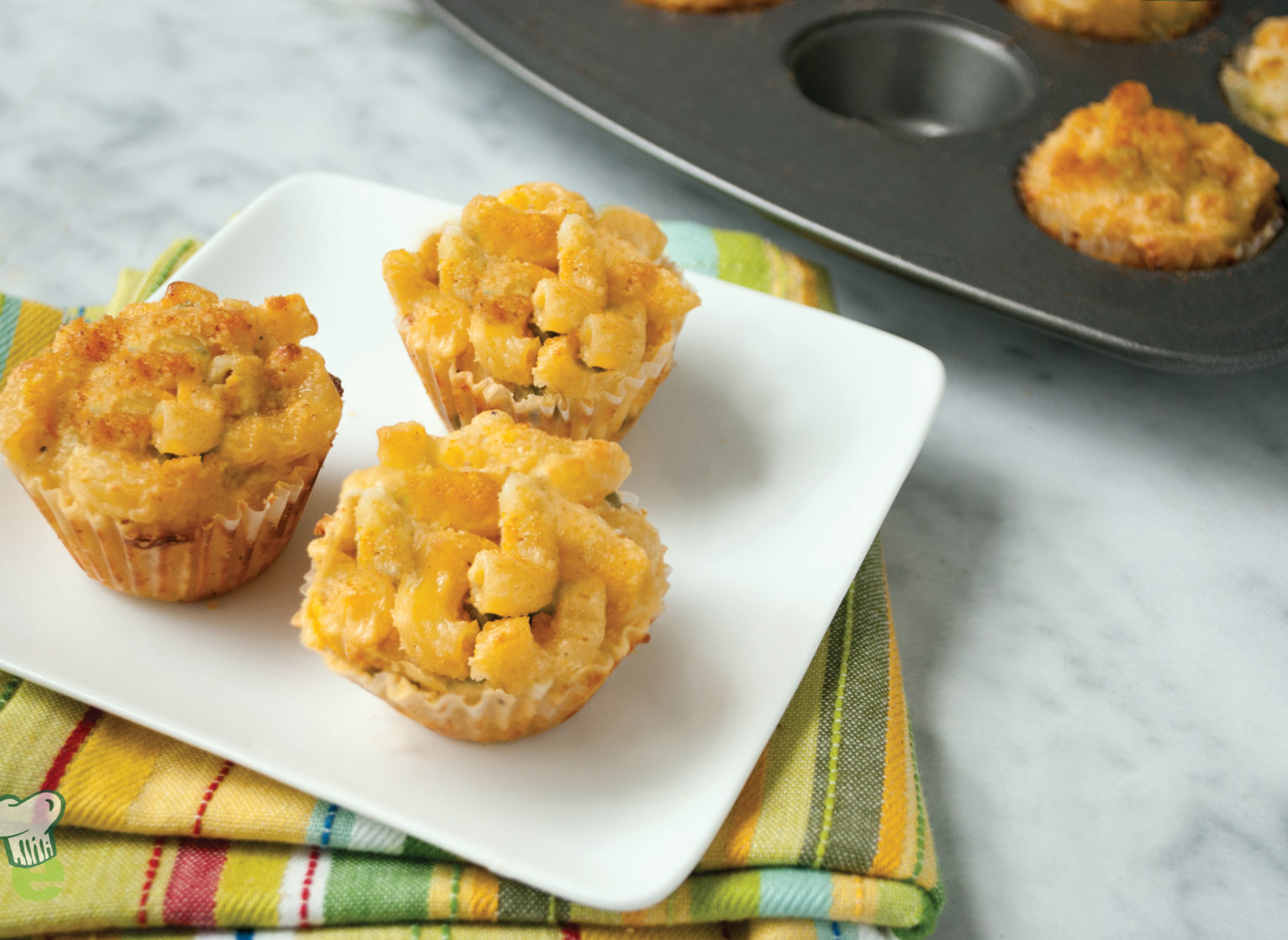 Here's a way to satisfy your comfort food craving and stay on track with healthy eating habits. These delicious mac and cheese bites are the perfect answer to eating in moderation with easy portion control at your fingertips.
Servings: 36
Nutrition Facts

Serving size: 2 bites
Calories: 78
Fat: 2g
Saturated Fat: 1g
Cholesterol: 8mg
Sodium: 150mg
Carbohydrates: 11g
Fiber: 1g
Protein: 6g
Ingredients
3/4 cup skim milk
3/4 cup nonfat sour cream
3 tbsp unsalted butter, melted
1/2 cup shredded part-skim mozzarella cheese
2 cups shredded reduced-fat sharp cheddar cheese (8 oz)
1 tbsp Dijon mustard
1/4 tsp salt
1/4 tsp black pepper
4 cups cooked multigrain elbow macaroni (or 2 cups uncooked elbow macaroni)
1/4 cup dried bread crumbs
1/4 tsp paprika
Hot sauce (optional)
Directions
Preheat oven to 400°. Line 2 mini muffin pans with 36 liners. Lightly spray the muffin liners with nonstick cooking spray.
In a saucepan, combine milk, sour cream, butter, mozzarella, cheddar, mustard, salt and pepper.
Cook over medium-high heat, stirring until cheese is melted and a sauce forms.
In a large bowl, combine cooked macaroni and cheese sauce, stirring gently.
Spoon heaping tablespoons of the macaroni and cheese into prepared muffin liners.
In a small bowl, combine bread crumbs and paprika. Sprinkle mixture over the macaroni and cheese cups.
Bake in the upper or middle third of the oven for 20 to 25 minutes, or until the cheese is melted and the bites are golden brown.
Let cool for at least 5 minutes before serving warm, or serve at room temperature.
Serve with hot sauce on the side, if desired.
Copyright 2022 © Baldwin Publishing, Inc. All rights reserved.
Health eCooking® is a registered trademark of Baldwin Publishing, Inc. Cook eKitchen™ is a designated trademark of Baldwin Publishing, Inc. Any duplication or distribution of the information contained herein without the express approval of Baldwin Publishing, Inc. is strictly prohibited.
No information provided in any recipe and/or other product or service is a substitute for professional medical advice and should not be interpreted as treatment recommendations. ALWAYS SEEK THE ADVICE OF A PHYSICIAN OR OTHER QUALIFIED HEALTH PROVIDER WITH ANY QUESTIONS REGARDING A MEDICAL CONDITION.
Subscribe for Updates
Get stories & health tips every week