Restaurant-Style Guacamole to Celebrate Guacamole Day!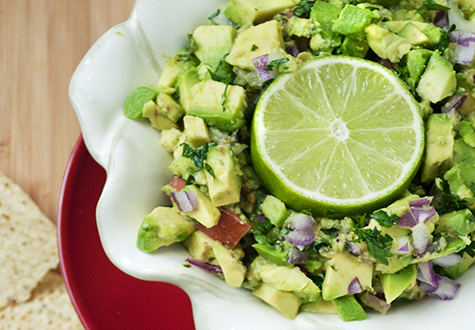 September 16th is Guacamole Day! This homemade guacamole recipe is a sure-fire crowd pleaser. Great for any party, try this easy, healthy dip that's packed with nutrition and flavor.
Servings: 12
Nutrition Facts

Serving size: 1/4 cup
Per Serving: Calories: 85 Fat: 7g Saturated Fat: 1g Cholesterol: 0mg Sodium: 70mg Carbohydrates: 5g Fiber: 3g Protein: 1g
Ingredients
3 avocados, pitted, peeled and diced
1 small plum tomato, diced fine
3/4 cup red onion finely diced
2 Tbsp diced jalapeño peppers from jar
3 Tbsp minced fresh cilantro
3 Tbsp fresh lime juice
1/2 tsp salt
1/2 tsp cumin powder
1/2 tsp garlic powder
Directions
In a large bowl, place the avocados. Add the remaining ingredients. With a large fork, smash the avocados and stir the ingredients until you reach desired consistency. Refrigerate, covered with plastic wrap, for 1 hour, or until chilled.
Copyright 2018 © Baldwin Publishing, Inc. All rights reserved.
Health eCooking® is a registered trademark of Baldwin Publishing, Inc. Cook eKitchen™ is a designated trademark of Baldwin Publishing, Inc. Any duplication or distribution of the information contained herein without the express approval of Baldwin Publishing, Inc. is strictly prohibited.
Subscribe for Updates
Get stories & health tips every week