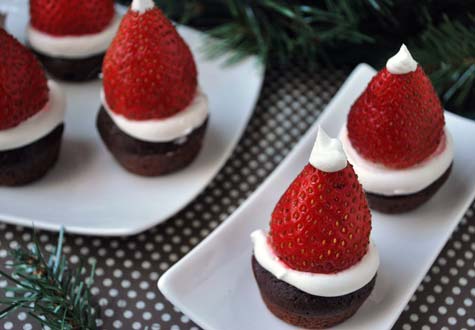 Here's a healthy holiday treat that will bring a smile to your face. Delicious low-fat brownies topped with healthy strawberries and whipped topping make easy Santa Hat Brownies that everyone will love.
Servings: 32
Nutrition Facts

Calories: 69
Fat: 2g
Saturated Fat: 0g
Cholesterol: 6mg
Sodium: 16mg
Carbohydrates: 11g
Fiber: 0g
Protein: 2g
Ingredients
1/2 cup all-purpose flour
1/2 cup whole wheat flour
1 tsp baking powder
1/8 tsp salt
1/2 cup unsweetened cocoa powder
1/4 cup dark chocolate chips
1 large egg
1 large egg white
1 tsp vanilla extract
1 cup low fat vanilla yogurt
1/4 cup dark brown sugar
3/4 cup granulated sugar
1 Tbsp canola oil
1/2 cup light whipped topping
32 strawberries
Directions
Preheat oven to 350°. Lightly coat 2 mini-muffin pans with nonstick cooking spray.
In a small bowl, combine flours, baking powder, salt, cocoa and chocolate chips.
In a large bowl, combine remaining ingredients except the whipped topping and the strawberries. Stir until well blended.
Add the flour mixture and stir until just blended.
Pour batter into muffin pans. Bake for 15 minutes, or until a toothpick inserted in the center of a brownie comes out clean. Cool completely on a wire rack.
On a cutting board, with a sharp knife, cut the stem sides of the strawberries so they are flat.
Remove brownies from muffin pans and arrange them on a flat surface.
With a spoon, spread a rim of whipped topping around the top of each brownie.
On each brownie, place a strawberry, flat side down, on top of whipped topping. Drop a small dollop of whipped topping on the pointy tip of each strawberry.
Copyright 2018 © Baldwin Publishing, Inc. All rights reserved.
Health eCooking® is a registered trademark of Baldwin Publishing, Inc. Cook eKitchen™ is a designated trademark of Baldwin Publishing, Inc. Any duplication or distribution of the information contained herein without the express approval of Baldwin Publishing, Inc. is strictly prohibited.
Subscribe for Updates
Get stories & health tips every week