Seared Scallops and Quinoa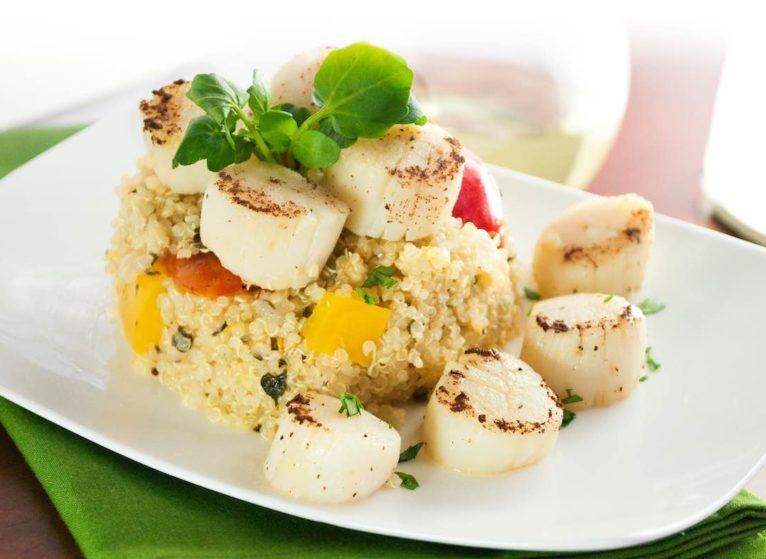 Seared scallops and quinoa make an easy seafood dinner that's sure to impress. You can make this high-protein romantic dinner in 30 minutes.
Servings: 6
Nutrition Facts

Calories: 239
Fat: 5g
Saturated Fat: 1g
Cholesterol: 38mg
Sodium: 336mg
Carbohydrates: 24g
Fiber: 3g
Protein: 24g
Ingredients
2 cups water
3/8 tsp salt
1 cup quinoa, drained and rinsed
3 tsp olive oil
1/2 cup chopped onions
1/2 yellow bell pepper, chopped
1/2 tsp lemon zest
1 tbsp lemon fresh juice
1 cup cherry tomatoes, halved
1/4 cup chopped fresh mint
Black pepper to taste
1 1/2 lbs sea scallops (about 1 inch each)
Directions
In a medium saucepan, add water and 1/4 tsp of the salt and bring water to a boil.
Add rinsed quinoa and bring to a boil.
Reduce heat to a simmer and cook for about 15 minutes, or until all water is absorbed and quinoa is tender. Set aside.
In a skillet, heat 1 tsp of the olive oil over medium heat until hot. Add onion and bell pepper and sauté for 3 minutes, or until onion is softened.
Add onion and bell pepper mixture, lemon zest, lemon juice, cherry tomatoes, mint, and black pepper to quinoa. Toss to combine. Keep warm.
In a large cast-iron skillet, heat the remaining 2 tsp of oil over medium-high heat.
Season scallops with the remaining 1/8 tsp of salt and pepper to taste.
Add scallops to skillet and cook for 3 minutes on each side or until lightly browned.
Serve with quinoa mixture.
Copyright 2021 © Baldwin Publishing, Inc. All rights reserved.
Health eCooking® is a registered trademark of Baldwin Publishing, Inc. Cook eKitchen™ is a designated trademark of Baldwin Publishing, Inc. Any duplication or distribution of the information contained herein without the express approval of Baldwin Publishing, Inc. is strictly prohibited.
Subscribe for Updates
Get stories & health tips every week