Slow Cooker Beef Brisket with Vegetables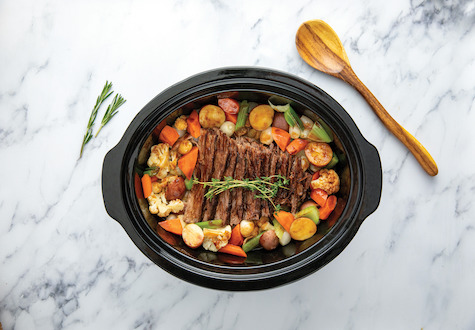 Whether it is for a special holiday meal or a weekend family dinner, this succulent beef brisket recipe will answer everyone's comfort food craving. Extra vegetables pump up the nutrition in this low-carb lean beef brisket recipe loaded with protein.
Servings: 6
Nutrition Facts

Calories: 186
Fat: 9g
Saturated Fat: 3g
Cholesterol: 61mg
Sodium: 143mg
Carbohydrates: 6g
Fiber: 1g
Protein: 20g
Ingredients
1 1/2 lbs beef brisket
1/8 tsp salt
Black pepper, to taste
1/2 tsp garlic powder
1 tbsp olive oil
3 garlic cloves, minced
1 cup pearl onions
1 cup button mushrooms
3 cups water
3 medium carrots, peeled and cut into 2-inch pieces
2 medium parsnips, peeled and cut into 2-inch pieces
1 head cauliflower, cut into 1-inch chunks
1 lb small red potatoes
2 celery stalks
2 tbsp chopped fresh parsley
2 tbsp chopped fresh thyme
1 tbsp tomato paste
1 tsp Worcestershire sauce
2 bay leaves
Directions
Season the brisket with the salt, pepper and garlic powder.
In a large skillet, heat the oil over medium-high heat. Add the brisket and sear for about 4 minutes on all sides, or until browned.
Add the garlic, onions and mushrooms and cook for 1 to 2 minutes, or until garlic is fragrant.
In a 5- to 6-quart slow cooker, place the seared brisket, sautéed onions and mushrooms and water. Cover and cook on high for 2 hours.
Add the carrots, parsnips, cauliflower, potatoes, celery, parsley, thyme, tomato paste, Worcestershire sauce and bay leaves. Cover and cook on high for 2 hours more.
Remove the meat, slice and serve over the vegetables with the sauce.
Copyright 2020 © Baldwin Publishing, Inc. All rights reserved.
Health eCooking® is a registered trademark of Baldwin Publishing, Inc. Cook eKitchen™ is a designated trademark of Baldwin Publishing, Inc. Any duplication or distribution of the information contained herein without the express approval of Baldwin Publishing, Inc. is strictly prohibited.
Subscribe for Updates
Get stories & health tips every week