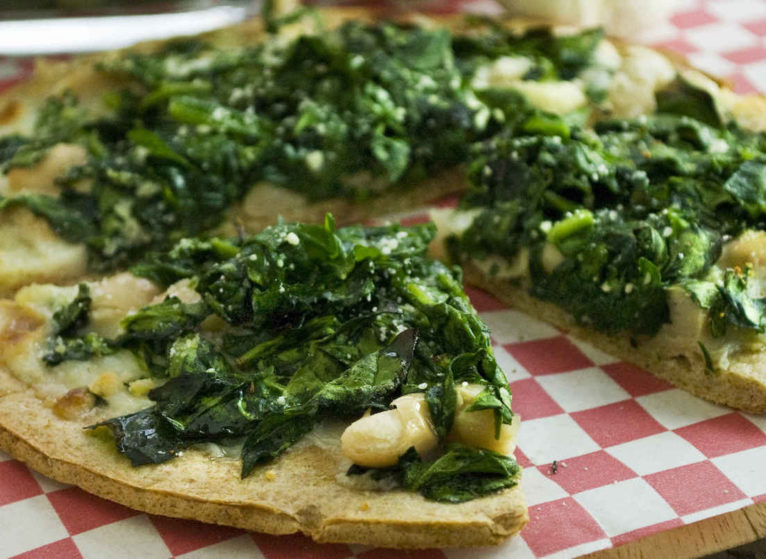 Spinach adds a little green — and a whole lot of healthy — to this white pizza. It makes a delicious light lunch or slice it up for a shareable snack.
Servings: 2
Nutrition Facts

Serving Size: 1/2 pizza
Calories: 323
Fat: 11g
Saturated Fat: 4g
Cholesterol: 18mg
Sodium: 488mg
Carbohydrates: 37g
Fiber: 7g
Protein: 12g
Ingredients
1 store-bought whole wheat pizza crust, 7"
2 tsp olive oil
2 garlic cloves, minced
2 oz part-skim mozzarella cheese, shredded
1/4 cup cannellini beans, rinsed and drained
2 tsp grated Parmesan cheese
1 cup fresh baby spinach, chopped
Black pepper to taste
Directions
Preheat oven to 450°.
Place the pizza crust on a baking sheet. Brush pizza crust with 1 teaspoon of the olive oil. Evenly spread garlic, mozzarella cheese, and beans over pizza crust. Sprinkle with the Parmesan cheese.
In a large bowl, toss the spinach with remaining 1 teaspoon olive oil and black pepper to taste. Spread the spinach leaves in the center of the pizza, leaving a border around the rim. Bake the pizza for 8 minutes, or until the cheese is melted and the spinach is wilted.
© Baldwin Publishing, Inc. ® Health eCooking is a registered trademark of Baldwin Publishing, Inc. No information provided in any recipe and/or other product or service is a substitute for professional medical advice and should not be interpreted as treatment recommendations. ALWAYS SEEK THE ADVICE OF A PHYSICIAN OR OTHER QUALIFIED HEALTH PROVIDER WITH ANY QUESTIONS REGARDING A MEDICAL CONDITION.
Subscribe for Updates
Get stories & health tips every week