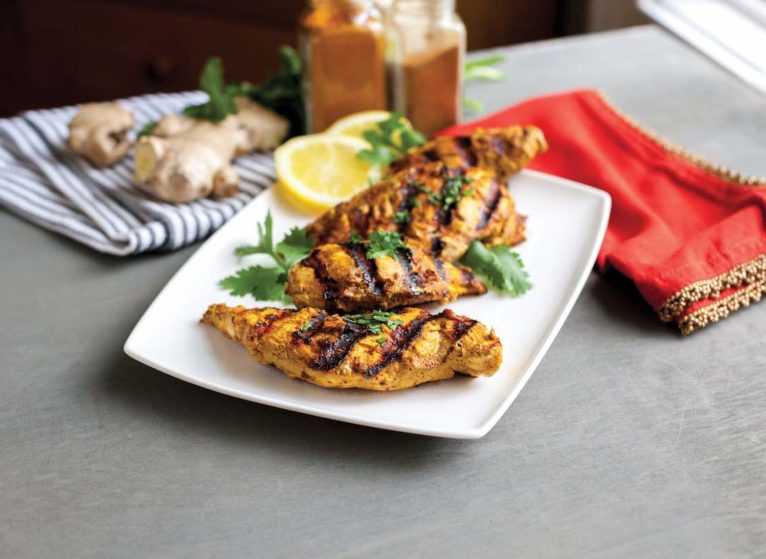 Tandoori chicken is one of the most popular dishes in Indian cuisine. This traditional Indian favorite is seared on the grill to lock in the wonderful spice flavors, then baked just enough to cook it through.
Servings: 10
Nutrition Facts

Calories: 170
Fat: 4g
Saturated Fat: 1g
Cholesterol: 102mg
Sodium: 152mg
Carbohydrates: 3g
Fiber: 0g
Protein: 28g
Ingredients
1 tbsp olive oil
1 tsp ground coriander
1 tsp ground cumin
1 tsp ground turmeric
1 tsp cayenne pepper
1 tsp onion powder
1 tbsp garam masala
1 tbsp sweet paprika
1 cup plain yogurt (gluten free if needed)
2 tbsp fresh lemon juice
4 garlic cloves, minced
2 tbsp minced fresh ginger
1/8 tsp salt
6 boneless skinless chicken breasts (4 oz each)
1 tbsp chopped fresh cilantro
1 lemon, cut into wedges
Directions
In a small saucepan, heat the oil over medium heat.
Add the coriander, cumin, turmeric, cayenne, onion powder, garam masala, and paprika and cook, stirring often, until fragrant, about 2 to 3 minutes.
Set aside to cool completely.
In a small bowl, whisk the yogurt, lemon juice, garlic, ginger, and salt.
Add the cooled spice mixture and stir to combine.
Place the chicken in a glass or ceramic baking pan. Cut deep slashes into the chicken and coat with yogurt marinade. Chill, covered, for 1 to 6 hours.
Preheat the grill to high heat.
Spray the grill rack with nonstick grill cooking spray. Remove the chicken from the marinade, shaking off and discarding the excess marinade.
Grill the chicken, covered, for 2 to 3 minutes per side, or until it is brown and slightly charred on all sides.
Remove from grill and transfer to a baking dish.
Preheat the oven to 350°.
Bake the chicken for 20 to 25 minutes, or until cooked through and a meat thermometer inserted in the thickest part of the chicken registers 165°.
Copyright 2021 © Baldwin Publishing, Inc. All rights reserved.
Health eCooking® is a registered trademark of Baldwin Publishing, Inc. Cook eKitchen™ is a designated trademark of Baldwin Publishing, Inc. Any duplication or distribution of the information contained herein without the express approval of Baldwin Publishing, Inc. is strictly prohibited.
Subscribe for Updates
Get stories & health tips every week