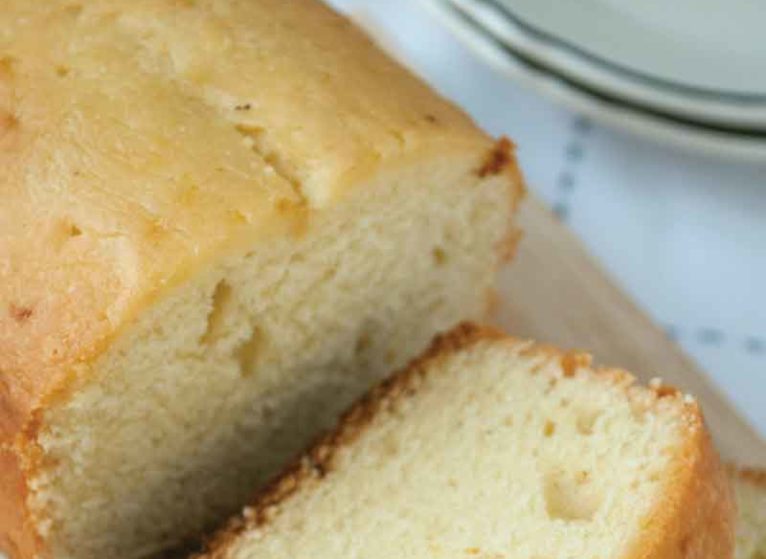 This healthy pound cake uses less sugar, light cream cheese, and some egg whites instead of eggs. Low in fat, cholesterol, and sodium, this cake tastes great with a fruit topping.
Servings: 12
Nutrition Facts

Serving size: 1 slice (1 1/2 inch each)
Calories: 191
Fat: 4g
Saturated Fat: 3g
Cholesterol: 55mg
Sodium: 104mg
Carbohydrates: 32g
Fiber: 0g
Protein: 6g
Ingredients
2 large eggs
3 large egg whites
2 1/2 tsp vanilla extract
1 tsp almond extract
8 oz light cream cheese
3 1/2 Tbsp unsalted butter
1 cup sugar
3/4 tsp baking powder
1/8 tsp salt
1 3/4 cups all-purpose flour
Directions
Preheat oven to 350°. Coat a 9-inch loaf pan with nonstick cooking spray.
In a medium bowl, whisk together eggs, egg whites, vanilla and almond extract; set aside.
In a large mixing bowl, using an electric mixer, beat together cream cheese and butter until blended. Beat in sugar, baking powder, and salt until blended. Alternate beating in flour and egg mixture, in batches, beginning and ending with flour.
Pour batter into prepared loaf pan and bake until a wooden toothpick inserted in center of cake comes out clean, about 55 to 65 minutes.
Cool cake in pan on a wire rack.
© Baldwin Publishing, Inc. ® Health eCooking is a registered trademark of Baldwin Publishing, Inc. No information provided in any recipe and/or other product or service is a substitute for professional medical advice and should not be interpreted as treatment recommendations. ALWAYS SEEK THE ADVICE OF A PHYSICIAN OR OTHER QUALIFIED HEALTH PROVIDER WITH ANY QUESTIONS REGARDING A MEDICAL CONDITION.
Subscribe for Updates
Get stories & health tips every week