Veggie Chickpea Sandwiches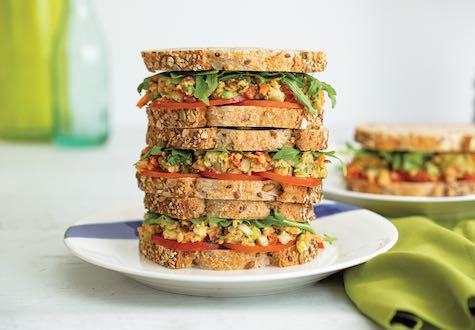 Whether it's the coronavirus (COVID-19) or the flu, when it's time to fight off infection, good nutrition is one way to help keep your immune system working at its best. This nutrient-packed chickpea sandwich is an immune-boosting powerhouse.
Easy to find and easy to store, canned chickpeas are high in zinc, an essential nutrient in immune cell production. Also, red bell peppers are high in vitamin C, a nutrient thought to increase white blood cell production to fight infections. And colorful carrots are loaded with beta carotene, an antioxidant that may protect the immune system from damaging free radicals.
The veggie mixture can be stored, chilled, for up to 4 days.
If you're looking to cut carbs, skip the bread — this colorful salad is delicious on its own.
Servings: 4
Nutrition Facts

Calories: 358
Fat: 8g
Saturated Fat: 0g
Cholesterol: 0mg
Sodium: 46mg
Carbohydrates: 58g
Fiber: 12g
Protein: 14g
Ingredients
1 can (15 oz) chickpeas, rinsed, drained and mashed
3 scallions, chopped
2 celery stalks, chopped
1/4 cup shredded carrots
1/2 red bell pepper, chopped
1 small dill pickle, chopped
1/2 avocado, peeled, pitted and mashed
1 tsp Dijon mustard
1 tsp chopped fresh dill
1/8 tsp salt
Black pepper to taste
2 tbsp unsalted roasted sunflower seeds
2 tbsp chopped fresh basil, plus additional for garnish
8 slices multigrain sandwich bread
Arugula leaves
1 beefsteak tomato, sliced
Directions
In a large bowl, combine the mashed chickpeas, scallions, celery, carrots, bell pepper, and pickle.
Add the avocado, mustard, dill, salt, and black pepper to taste. Stir to combine well.
Add the sunflower seeds and chopped basil and stir gently to combine.
Divide the chickpea salad evenly among 4 slices of bread.
Top with arugula leaves, basil, and tomato slices, if desired.
Top the mixture with the remaining 4 slices of bread.
Copyright 2020 © Baldwin Publishing, Inc. All rights reserved.
Health eCooking® is a registered trademark of Baldwin Publishing, Inc. Cook eKitchen™ is a designated trademark of Baldwin Publishing, Inc. Any duplication or distribution of the information contained herein without the express approval of Baldwin Publishing, Inc. is strictly prohibited.
Subscribe for Updates
Get stories & health tips every week