Zucchini Lasagna Roll-Ups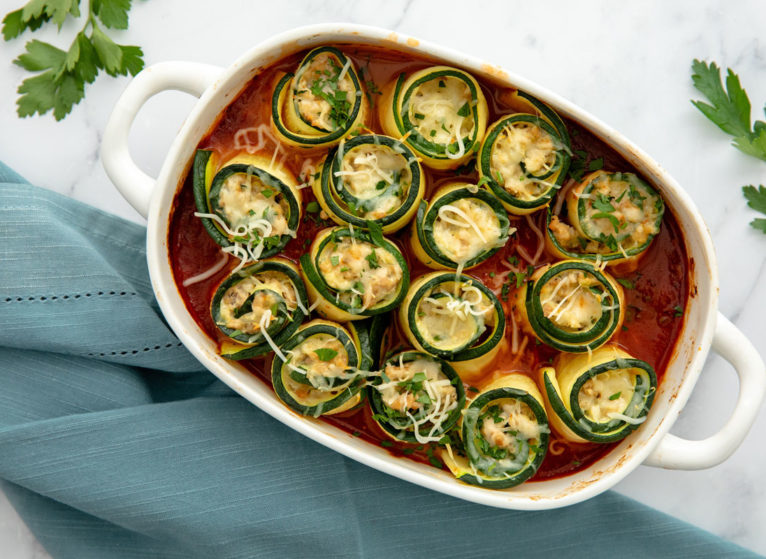 Lasagna doesn't have to be forbidden food in your healthy diet. These delicious low-carb zucchini lasagna roll-ups substitute lasagna noodles with healthy zucchini strips.
Servings: 8
Nutrition Facts

Calories: 177
Fat: 10g
Saturated Fat: 3g
Cholesterol: 67mg
Sodium: 327mg
Carbohydrates: 15g
Fiber: 1g
Protein: 15g
Ingredients
3 large zucchini, ends trimmed and sliced into 1/8-inch thick long strips
1 cup marinara sauce
1 Tbsp olive oil
2 garlic cloves, minced
1 small onion, chopped fine
3/4 lb ground turkey
1/8 tsp crushed red pepper flakes
1/8 tsp salt
Black pepper to taste
3/4 cup part-skim mozzarella cheese
1/2 cup part-skim ricotta cheese
2 Tbsp grated Parmesan cheese
1 egg
1 tsp dried oregano
1 Tbsp chopped fresh basil
Chopped fresh parsley for garnish
Directions
On a baking sheet lined with paper towels, arrange the zucchini strips. Sprinkle salt on the zucchini slices and let sit for 15 to 20 minutes. Dab the strips with a paper towel to and roll up. Refrigerate the zucchini roll-ups overnight. Drain the liquid.
Preheat the oven to 350°. In an 9- x 9-inch glass baking dish, pour 1/2 cup of the marinara sauce. Set aside.
In a skillet, heat the oil over medium-high heat. Add the garlic and onion, and cook until the garlic is fragrant, about 1 minute. Add the ground turkey and cook until no longer pink, about 3 to 4 minutes. Add the crushed red pepper, salt and black pepper to taste, and stir to combine. Remove from the heat.
In a medium bowl, combine 1/2 cup mozzarella, ricotta, Parmesan cheese, egg, oregano, and basil. Add the cooked ground turkey mixture and stir.
On a baking sheet, arrange the unrolled zucchini strips in a single layer. Line each zucchini strip with 1 1/2 tablespoons of the turkey mixture. Roll up the zucchini strips. Arrange the rolls, standing upright, in the prepared baking dish.
Pour the remaining 1/2 cup marinara sauce over the roll-ups and top with the remaining 1/4 cup mozzarella. Bake for 25 to 30 minutes, or until cheese is melted. Garnish with parsley, if desired. Serve immediately.
Copyright 2020 © Baldwin Publishing, Inc. All rights reserved. Health eCooking® is a registered trademark of Baldwin Publishing, Inc. Cook eKitchen™ is a designated trademark of Baldwin Publishing, Inc. Any duplication or distribution of the information contained herein without the express approval of Baldwin Publishing, Inc. is strictly prohibited.
Subscribe for Updates
Get stories & health tips every week