Sione Wade's battle with stage I breast cancer was almost eight years ago and relatively brief. A last-minute appointment enabled her to get a lumpectomy the same week she was diagnosed. She's been cancer-free ever since.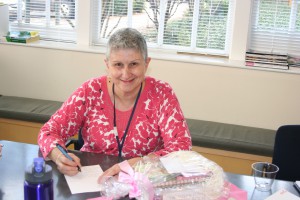 But Wade's never forgotten the phone call from her doctor, the decision about whether to undergo radiation or anything else about her illness. So two years later, she went back to the UVA Breast Care Center, this time as a weekly volunteer.
"I wanted to volunteer here because everybody is so sweet, so kind, so compassionate," she says.  "When I was diagnosed, my husband told me, 'This experience can either make you bitter or better.' And I said, 'Ain't no way it's going to make me bitter.'"
Her main job as a volunteer? She puts together kits for newly diagnosed breast cancer patients that include this personal note:
Every Friday afternoon, Wade sits in a room in the Breast Care Center, assembling the kits and writing the notes. She's written those same words thousands of times over the years, but she never gets tired of it.
"If it helps somebody, I'll write 10,000," she says. "I like to encourage patients that it's not a death sentence. It's not."
Be encouraged and take one day at a time
Knowing that your strength will come
In moments…
In hours…
In months…
Just at the right time…

Wade also helped develop the kits. They have:
A journal
An exercise tape and elastic exercise band for stretching
A calendar to keep track of appointments and other dates
The book "Chicken Soup for the Breast Cancer Survivor's Soul: Stories to Inspire, Support and Heal"
The book "Dr. Susan Love's Breast Book"
Nurses also give breast cancer patients a navigation notebook with information about the healthcare providers they will encounter, as well as camisoles with pockets to hold their drainage tubes after surgery.
All this is funded by the Charlottesville Women's Four Miler, an annual fundraising race with 3,500 participants. Putting together the kits, though, is Wade's job.
Sometimes she comes in and seven or eight of the kits she made the previous week will be gone, given to newly diagnosed patients. "It's sad," Wade says. "But it's good that they were diagnosed and are going to get treatment."