After a year filled with personal bests, Louise Knudson didn't have a great race at the Olympic Trials Marathon Saturday.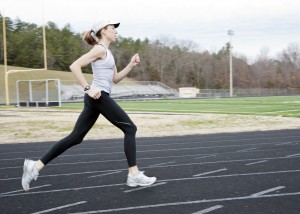 Knudson, an RN who works with patients recovering from heart and lung surgery, placed 114 out of the 152 runners who completed the marathon in Houston. Her time was 2 hours and 49 minutes, 14 minutes slower than the personal best she hoped to achieve.
Knudson said she started strong but never fell into a good rhythm, partly because she came down with stomach cramps a few miles into the race. "It just turned out to not be my day," she said.
Still, she had a great time in Houston and enjoyed running with the country's top female athletes. "I was really glad to be a part of the trials," she says. "It was something I wasn't expecting."
Knudson, 26, started running seriously only a few years ago. She plans to take some time to recover from this marathon and then begin focusing on track racing and her short distance times.
She has something else to look forward to: she was accepted into Virginia Commonwealth University's nurse anesthesia graduate program. She'll start in the fall and work towards a master's degree in nurse anesthesia practice.
And she hopes to be back at the Trials in four years.
"I try to set my goals high," she says. "This time it didn't work out, but I'll have to try again."
We're proud of Knudson and wish her the best of luck!
Read More
Did you miss our two previous posts about Knudson and UVA's Center for Endurance Sport? Get the background story: