In this two-part series, we'll cover books on parenting, sports injuries, psychology, healing, aging and more.
It's that time of year when summer reading lists pop up as abundantly as the mosquitoes;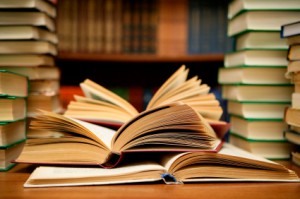 this year, we decided to add ours to the fray. To give our book recommendations a different kind of spin, we polled our staff for their medical, health and science-related favorites.
Enjoy!
Parenting Teens
Mary A. Sullivan, UVA Teen Health Center, adolescent advocacy and outreach program director, provided several recommendations for this category.
"Grow the Tree You Got & 99 Other Ideas for Raising Amazing Adolescents and Teenagers" 
by Tom Sturges
Sullivan says: "Sturges, the father of three sons, addresses both how hard it can be to raise teens, offering positive pro-active ways to handle typical parenting scenarios."
"A Question of Freedom: A Memoir of Learning, Survival, and Coming of Age in Prison"
by R. Dwayne Betts
Sullivan says: "I have heard Betts speak on two occasions and am always inspired by his story of strength, reflection and redemption. An impulsive act ends with his imprisonment, but he mines the experience for enlightenment and wisdom to share with others."
"Last Child in the Woods: Saving Our Children from Nature-Deficit Disorder"
by Richard Louv
Sullivan says: "Louv explores the value of nature and being outdoors for all of us, why our children spend so little time outside, how this deficit of nature affects them and how to supplement this deficit."
"More Than Moody: Recognizing and Treating Adolescent Depression"
by Harold S. Koplewicz, MD
Sullivan says: "While considering adolescent depression and suicide is difficult and disturbing, the need to know more is crucial."
"School of Dreams: Making the Grade at a Top American High School"
by Edward Humes
Sullivan says: "Humes, a Pulitzer-prize winning journalist, captures the pressure cooker that school has become for our teens. Clearly, this has only become more stressful since the publication of this book nine years ago."
"Hold On to Your Kids: Why Parents Need to Matter More Than Peers"
by Gabor Maté, MD, and Gordon Neufeld
Recommended by Diane Sampson, Prenatal Education Director
Fitness Books for Kids and their Parents
Want some fun books to get your kids moving? Angie Hasemann, a registered dietitian at our Children's Fitness Clinic, provided these recommendations.
"Sneaky Fitness: Fun, Foolproof Ways to Sneak Fitness into Your Child's Everyday Life"
by Missy Chase Lapine and Laryso Didio
"The Busy Body Book: A Kid's Guide to Fitness"
by Lizzy Rockwell
"The Monster Health Book: A Guide to Eating Healthy, Being Active & Feeling Great for Monsters and Kids!"
by Edward Miller
"My Daddy Is a Pretzel: Yoga for Parents and Kids"
by Baron Baptiste

For New Parents
"Why Love Matters: How Affection Shapes a Baby's Brain"
by Sue Gearhardt
Sampson says: "Great book on the science of attachment. Gearhardt outlines new findings in brain development and highlights how essential relationships, love and affection shape our children's brains."
"Birth Day: A Pediatrician Explores the Science, the History, and the Wonder of Childbirth"
by Mark Sloan, MD
Sampson says: "Written by a first-time dad and pediatrician, Sloan gives us a beautifully written account of his own road to fatherhood. He also is a great historian and guides us through a history of birth practices and baby care in the United States in the last few centuries."
"What Mothers Do Especially When It Looks Like Nothing"
by Naomi Stadlen
Sampson says: "I wish I had this book when I was a new mom. To that end, this is my shower gift to any new mom I know. An honest, sometimes painful narrative of the overwhelming changes in a new mom's life."
Eating Healthy, Nutrition

"How to Get Your Kid to Eat but Not Too Much"
"Feeding With Love and Good Sense"
by Ellyn Satter
Recommended by Ashleigh Sellman, RD
Sellman says: "Both of these books address the crucial importance of not only how to encourage healthy eaters but also how to raise our kids to have a positive, healthy relationship with food, which is essential for health, maintaining a healthy weight throughout life and an important factor in preventing eating disorders and disordered eating."
"Intuitive Eating"
by Evelyn Trimbole and Elyse Reisch
Recommended by Ashleigh Sellman, RD
Sellman says: "This book discusses how to help us find a connection with our bodies' signals so that we know what, when and how much to eat to nourish ourselves. A way to internally use our body's gift to tell us what it needs instead of trying to externally control our body with diets and numbers."
"Animal, Vegetable, Miracle"
by Barbara Kingsolver
Recommended by Mary Lou Perry, RD
Perry says: "I found this a fascinating read as the reader journeys with the author and her family during the one year they commit to grow all produce and purchase everything they consume (except coffee) locally. They come to discover things about themselves, their family, their own sensibilities and the power of waiting. Such a powerful story; it made me want to be a better steward of the land."
"In Defense of Food"
by Michael Pollan
Recommended by Mary Lou Perry, RD
Perry says: "Some may call him anti-dietitian, but I found his very common sense approach to healthy eating refreshing. It's summed up in several simple words: 'Eat food, mostly plants, not too much.'"
Check back tomorrow for more recommendations, including books about sports, psychology and working in medicine.