Whooping cough has been all over the news. So far this year, almost 18,000 cases of this contagious disease, also known as pertussis, have been reported to the Centers for Disease Control and Prevention, CNN reports. Nine babies have died from the disease.
Why are babies more at risk? Babies can't get the DTaP vaccine that protects against whooping cough, diphtheria and tetanus until they are 2 months old. Until then, they can catch whooping cough from adults who haven't had a Tdap booster recently. (Learn more about whooping cough vaccines.) And infants are more likely to develop life-threatening complications, according to the CDC.
Some of the kids who have gotten sick are adolescents who have already been vaccinated. However, health officials still agree that getting vaccinated is the best way to prevent whooping cough and, in turn, prevent passing it onto an infant.
One Family's Whooping Cough Story: "This Is Not How We Thought His Second Month of Life Would Be"
At 7 weeks old, Jack Berkley Jordan of Staunton is a local example of why these vaccinations are so important.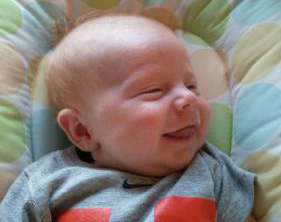 Jack coughed twice on July 2. His mom, Lauren Jordan, knew even a slight cough could be serious, so she called the doctor. A pertussis test came back positive, and over the next three weeks, Jack was hospitalized twice. He went home July 21 but had to go back in the hospital a day later under the worst of circumstances:
"Jack completely stopped breathing at home. … We had to call 911; my husband and I had to give him rescue breaths on our way to the fire station. He was not breathing when we arrived there. Having my newborn lying in my lap unresponsive was a nightmare to say the least. A very special fireman, who is a father himself, saved Jack's life. My husband also deserves credit because his safety plan and rescue breaths got us help and kept Jack going."
Jack was admitted to UVA and may not be ready to go home until early August.
"Jack is fighting hard," Jordan writes. "The doctors tell us he will beat this and be OK. He has good days and bad days. His coughing episodes are very scary. He turns red, blue and purple during some of them and even stops breathing/holds his breath. Pertussis is relentless and so hard on his little body. It really wears him out. Luckily, he is eating and growing well."
The Jordans aren't sure how Jack caught whooping cough. He wasn't old enough for his DTaP vaccine, but his only outings in his first few weeks of life were to go to the doctor and the grocery store. "The grocery store trip was only a few days prior to his diagnosis," Jordan writes. "Small babies like Jack get sick because people fail to immunize themselves and their children."
Jordan hopes sharing her son's story will prevent other cases. "While we are thankful that Jack is as healthy as he is, this is not how we thought his second month of life would be," she adds. "As a mother, this has been so hard for me. I have often felt helpless. No one wants to see a tiny baby sick. Pertussis is called the 100-day cough. We hope by our hundredth day in October that this will just be something in the past that reminds us how blessed we are to have our sweet boy!"
Protect Yourself and Prevent Whooping Cough
If you're in the Charlottesville area, you can get the vaccine from:
Your local VDH health district office
We blogged about whooping cough last December. Learn more about whooping cough and how to prevent it.