Fifteen percent of Charlottesville residents speak a language other than English at home, according to the U.S. Census Bureau. For them, understanding diagnoses and following care instructions would be nearly impossible without the help of interpreters.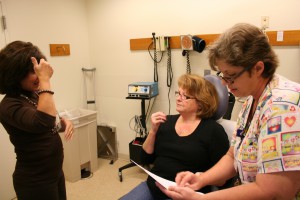 UVA has eight full-time employees who can interpret Spanish and hires local experts for other languages as needed. Some of the most common are:
American Sign Language (ASL)
Russian
Chinese
Arabic
Nepali
UVA, like other federally funded organizations, must provide interpreters at no charge for patients who aren't proficient in English. But this service is about more than fulfilling a requirement. Interpreters are necessary for "the safety of everyone involved. We're dealing with medicine and the patient's health, and it's crucial to get everything right," says Jerry Brooks, one of UVA's Spanish interpreters.
How Medical Interpretation Works
The interpreters are available for any patient who isn't fluent in English, and they're trained in medical terminology. Non-English-speaking patients make appointments at UVA in a few different ways:
Patients call the clinic and an over-the-phone interpreter facilitates the conversation.
An English-speaking family member or a friend contacts UVA for them.
The International Rescue Committee's Charlottesville office refers people to UVA and helps them set up appointments.
Patients who speak some English make the appointment themselves, and they or a staff member request an interpreter for the appointment.
Once patients make the first appointment, employees put notes in their registration information and electronic medical record so they'll know to request an interpreter for future appointments.
When an interpreter goes to a doctor's appointment, the conversation is still between the healthcare provider and the patient, explains Liz Cook, an ASL interpreter. Her job is to interpret the languages, not add to the conversation.
The interpreters also work with patients staying in the hospital. If one isn't available in person, the healthcare provider accesses one through a video chat or phone system.
Feeling Safer: One Patient's Story
Cook recently worked with Stuarts Draft, Va., resident Wanda E. Biser, who had a basal cell carcinoma (a form of skin cancer) removed at UVA. Biser and her husband are deaf and communicate in ASL.
When Biser was interviewed for this story, she signed as Cook interpreted her words into English. Biser said UVA's use of nationally certified interpreters made her "feel safer."
During a recent dermatology appointment, Biser also had a chance to try out UVA's new Video Remote Interpreting (VRI) service, which connects patients with interpreters through an online video chat system.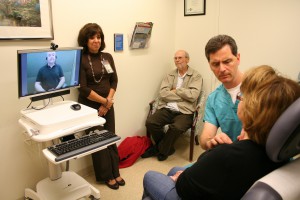 She said that was a "good experience, but you have to get so used to it. … Especially for last-minute appointments, I think it's good."
She's been in emergency rooms before where there was no interpreter at all.
"I'd rather have the VRI than a nurse trying to work out finger spellings," she says.
Vickie Marsh, interim manager of Language Assistance Services, says having a live interpreter is ideal, but the video and phone services fill a much-needed gap when patients need an interpreter quickly or there is no local interpreter who speaks the patient's language.
Help for Refugees: A UVA-IRC Partnership
Each year, the Charlottesville IRC office helps about 200 refugees start a new life in central Virginia. That includes helping them find a primary care doctor.
"What we don't want is for our clients to have to use the emergency room as their primary care provider," says Terri DiCintio, IRC's community relations coordinator.
Refugees sometimes have medical problems such as malaria that U.S. doctors don't usually see, DiCintio explains. So the IRC often refers refugees to UVA's International Family Medicine Clinic. Fern Hauck, MD, started the clinic in 2002 to serve refugees in Charlottesville.
In turn, UVA relies on the IRC's 50 interpreters, some of whom know less-common languages such as Nepali and Kirundi, to ensure all patients can communicate with their health care providers.
Otherwise, patients may try to rely on a family member or a friend, and "there are all kinds of problems that can result from that," DiCintio says. "Let's say a pregnant woman has to go to an OB/GYN appointment, and the only person she has to bring with her is her 12-year-old child. It's not appropriate. It's uncomfortable. Is the patient going to be open and honest?"
Need an Interpreter? Want to Work as an Interpreter?
If you or your family member need an interpreter for your next doctor's appointment, let our staff know when you schedule the appointment.
Find out more about interpreters and document translation at UVA.
To reach our over-the-phone Spanish interpreter, call 877.297.2366 and enter the access code 4044.1905.7434. An interpreter will help you make your appointment.
For any language-related concerns, please contact Language Assistance Services at 434.982.1794.
We're looking for nationally certified Spanish and ASL interpreters with medical training to work as contractors on an as-needed basis. If you're interested, contact Language Assistance Services.

Also, Charlottesville's IRC office is looking for people fluent in:
Arabic
Burmese
Karen
Karenni
Swahili
If you're interested in working or volunteering as a community interpreter and are willing to take a language test, send your resume to Eugeniya Haas.