Ava McDonough is a rising 9th-grader at St. Anne's-Belfield School and part of UVA's Summer Volunteer Program. Here are her reflections after two weeks of volunteering.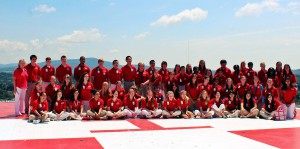 I wanted to become a volunteer at UVA for multiple reasons. One, it was a good way to see what the hospital environment is like. Volunteering here has let me see all the different jobs and things you can do when working in a hospital. I also love to help out, like helping people find their way if they're lost. It's exciting because you get to meet many new people and see many new things.
In the short two weeks that I have been here, there have been many memorable moments, not only for me but for the 61 volunteers along with me. My favorite part of volunteering so far is working in Surgical Supply. When you are working in Surgical Supply you wear scrubs, which may be the most comfortable things in the world, and deliver carts and boxes filled with tools used to operate.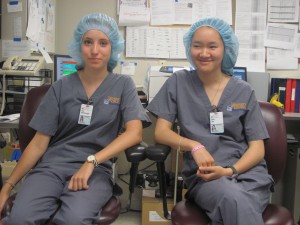 It was really amazing to look through the windows of the operating rooms and see interesting surgeries on the monitors. The amount of tools needed for one operation was quite a shock!
It was lots of fun to push the shopping cart around selling candy to staff and patients and see how happy it made them. My shopping cart team sold an amazing $65 on our second time pushing the cart.
Only two weeks into the program, all of us have made so many memories and friendships.