Ava McDonough is a rising 9th-grader at St. Anne's-Belfield School and part of UVA's Summer Volunteer Program. Here are her reflections on volunteering at UVA.
This is the fourth week of volunteering here at the UVA Health System, and we love it! Many of us are spending time helping in the Emergency Department. We also have great experiences delivering eCards to patients and seeing how happy it makes them. Working in the endoscopy and bronchoscopy areas is a great way to help out staff and socialize with the patients in the waiting room. And best of all, the new lobby is open.
In the Emergency Department, junior volunteers help the nurses with errands. The nurses made the volunteers feel right at home. One of the volunteers reflected back on his time in the emergency department and said, "All the people working in E.D. are hilarious and awesome to be around! It makes the time go by at lightning speed." The Emergency Department is a great place to help out.
An eCard is a message that someone designs on the UVA website that gets delivered by a volunteer to the patient room. This is one of the great ways to cheer up patients. It's great to see the impact one of the cards can make. A volunteer said "Delivering eCards in one of the most rewarding experiences that you can have in the UVA junior volunteering program. I was delivering eCards to a patient who was also a teacher. It was amazing to see all the wonderful things his former students sent him in his time of hardship. Not only was it rewarding to make the teacher's day better, but the experience also put my view of patients into perspective because it showed me that everyone who visits this hospital has jobs, friends, and legacies." This is a wonderful way to help make patients happy.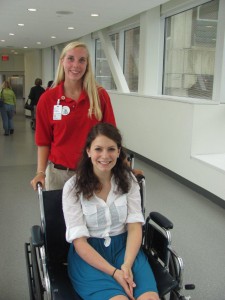 Working in endoscopy and bronchoscopy is a lot of fun. Volunteers get to help with patients in the waiting rooms and wheel their wheelchairs for them. A volunteer said "I loved wheeling out a fun, loving and chatty patient to the main lobby." It's rewarding to know the small things you do greatly help others.
Finally, the new lobby has opened! The lobby is a beautiful addition to the hospital and is so nice to be in. We as volunteers love how much easier it is to get to certain areas now. The furniture is so clean and nice to be around. There was clearly a lot of thought and time put into building this amazing lobby! One of the volunteers said "The new lobby is so beautiful, bright, and welcoming." That statement is hard to argue with. I love having the new lobby right outside of our door.
This fourth week has been lots of fun and I can't believe how fast the time has gone! We're halfway done with the program and have already made so many memories. It's been a wonderful four weeks, and we can't wait for the next four.