You in one sentence:
My name is Ann Kellams and I am a pediatrician, teacher, researcher and mother of three.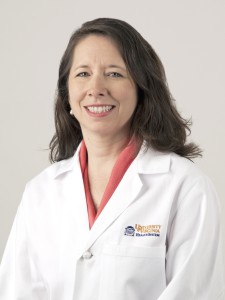 Hometown?
I am a Texan, born and raised. (Hook 'm Horns!)
Specialty?
I am a general pediatrician, serve as the medical director of Newborn and Breastfeeding Medicine and am co-director of The Healer's Art course for medical students and faculty at UVA.
Why medicine?  
I grew up knowing I wanted to help people and was always fascinated with science, and this seemed the perfect way to combine the two. I knew early on that I wanted something that both interested me and that could truly make a difference in people's lives.
Best thing about UVA?  
This is an exciting place to work. We have the chance every day to collaborate across all areas and disciplines to work to improve the care that we give and to study and teach how we can make things even better. It is a privilege to be among so many people who are passionate about their work and who share similar goals. There is a lot of possibility here.
For example, we had an idea that there were mothers out there who were needing more support with their goal to breastfeed their babies, which is important for their health, and we were able to work with those in leadership to make a new consult program a reality across the Health System. That does not happen without a group of dedicated individuals who are interested in doing the right thing.
Hobbies?
I love to cook, sing, read novels, see great films, laugh, and most of all, spend time with family and friends.
What would you do if you weren't a doctor?  
If I weren't a doctor, I would do some other type of service … perhaps teaching, or counseling or something in the community that involves working with children and families. I cannot imagine living life any other way.