Cassandra Hobbs is 16 years old and spent her summer volunteering through UVA's junior volunteer program. Check out our other junior volunteer updates.
As a school, UVA has much to offer, and not just to college students.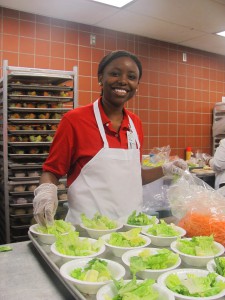 UVA Health System's Junior Volunteer, or JV, summer program is a three-month program for high school students that offers not only work experience but life experience. As a second-year volunteer here at UVA I have spent a lot of time around the hospital helping patients and wandering halls, but no matter how much time I spend here, the hospital never ceases to amaze me.
The program offers a wealth of areas to volunteer in. Some are hands on, like escorting and wayfinding and flower delivery, where volunteers have direct contact with patients and their families.
Others are hands off and made up largely of important paperwork, and a few are a mix of both.
In some inpatient areas, for instance, volunteers' days are made up of answering phone calls and running errands. But no matter where they are and what they do, volunteers are always having fun.
In the 4 West department of University Hospital, volunteers help nurses by running errands, answering phone calls, interacting with patients and doing odd jobs around the department.
"It's fun," said Maddie McKalips, the Friday morning volunteer at 4 West. "Once, I wrote a list of nurses' names on a board and I made them into the shape of a tree." Among other tasks, Maddie spent her time delivering towels and soda to patients. Once she even read a letter to a patient.
"This year was the best group of volunteers,"  said Donna Alston, health unit coordinator at 4 West. Alston, who has been with UVA for about two years, said that the juniors did a great job this year. "They volunteer for everything."
And so as the summer comes to a close so does the JV program, but the volunteers aren't going quietly. To kick off the end of their program, the volunteers threw a flash mob to Don't Stop Believin' by Journey, complete with a dance.
It has certainly been an interesting summer.