Jim Malloy was only supposed to be pretending to have an abdominal aortic aneurysm (AAA).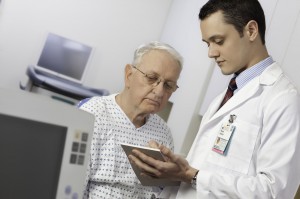 This condition, where an area in the abdominal section of the aorta swells and can burst, is common in men between 65 and 75. As a School of Medicine "standardized patient," Malloy's role was to pretend to have the condition to help students practice diagnosing.
However, medical student Ryan Jones heard and felt the symptoms of an actual AAA. The doctor overseeing the practice session recommended that Malloy, a Crozet resident, see a cardiologist.
It turned out Malloy did have an AAA. He had stent placement surgery at UVA and is now doing well.
"Jim's life was saved by a UVA medical student, no doubt about it," says Louise Malloy, his wife.