January is Cervical Cancer Awareness Month. In 2012, 13,000 women in the U.S. were diagnosed and 7,000 died, according to the International Agency for Research on Cancer (IARC). These rates have dropped sharply in the past 40 years, thanks to pap tests that help healthcare providers catch and treat precancerous lesions.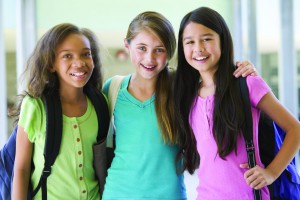 So why Cervical Cancer Awareness Month? Why this blog post?
Worldwide, cervical cancer is the fourth most common cancer in women, with 528,000 cases and 266,000 deaths in 2012, the IARC reports. Most cases occur in less developed regions, which have much higher incidence and death rates than the U.S.
And this cancer is preventable. Nearly all cases are linked to the human papilloma virus (HPV). Pap tests catch precancerous lesions, but the HPV vaccine prevents those lesions from even forming.
How HPV Leads to Cervical Cancer
Almost all women — 80 percent of those in the U.S. who are sexually active — will be exposed to the HPV virus at some point, according to the Centers for Disease Control and Prevention.
Many people hear HPV and think of genital warts. But the HPV strains that cause warts are different from the ones that lead to cervical cancer. And if you have those strains, you won't see any symptoms.
Most women exposed to the genital wart-causing strains will clear them within a couple of years, says Linda Duska, MD, but they're less likely to clear the strains that cause cervical cancer.
"Even if a woman has been exposed to HPV, or has had an abnormal pap smear, she should still get the vaccine," Duska says.
If you clear the strain, you won't get cervical cancer from it but are still susceptible to other strains. And if you don't clear it, these cancer-causing strains of HPV can integrate themselves into the DNA of your cervical cells, Duska explains. The cells can then become pre-cancerous.
Some pre-cancerous lesions resolve on their own, Duska says. Other cases require removing part of the cervix.
And if these lesions aren't caught by a pap test and you develop cervical cancer, the treatment is brutal. If your cancer is stage 1, which is confined to the cervix, you'll need a hysterectomy. For more advanced cancers, you'll also need chemotherapy and radiation. You won't be able to have children afterward.
"Advanced cervical cancer is a horrendous disease," Duska says. "It invades your bladder and your rectum and makes you bleed."
Vaccinating Teens for HPV
There are two HPV vaccines, and both require three doses:
Cervarix, which only protects against cervical and certain head and neck cancers
Gardasil, which also protects against genital warts and cancers of the vulva, vagina, penis and anus. Gardasil is the only vaccine available for males.
In 2009, Virginia became the first state in the U.S. to mandate the vaccine for girls entering sixth grade. Parents can opt their children out, and consequently, only about half of all adolescent girls in Virginia are receiving the first dose, and fewer than one-third receive the last dose, according to the CDC.
These numbers frustrate Duska, who says adolescents should be vaccinated before they have a chance to be exposed to HPV. "If you look at the number of teens who are sexually active in the U.S., the numbers are staggeringly high."
The vaccine is very safe, she adds; the most common complications are fainting and pain at the injection site.
It's too soon to see whether HPV vaccines are affecting U.S. cervical cancer rates, especially with so few girls completing the vaccine course. Australia, however, implemented a school vaccination program in 2007. A British Medical Journal study reported:
83 percent of adolescent girls got the first dose of the vaccine in 2010
73 percent got all three doses
The results? Significant decreases in genital wart diagnoses for women under 30. For women under 21, rates dropped by 92.1 percent. And with this, the rates of the cervical abnormalities that lead to cancer also dropped.
Vaccinating Older Women?
In the U.S., the vaccine is only FDA-approved up to age 26. By then, most women will have been exposed to HPV and cleared the virus, although the vaccine will still protect against any strains they haven't been exposed to.
The age restrictions are also related to biology: The part of the cervix that's most susceptible to HPV-related tumors is on the outside of the cervix at that age. As women get older, this area goes up inside the cervix and is less susceptible, Duska says.
However, Merck, the vaccine manufacturer that makes Gardasil, now has data for women up to age 44 and is asking the FDA to extend the age limit, Duska says.
Should Boys Be Vaccinated for HPV?
The CDC now recommends routine vaccination for boys.
Get the Vaccine
If you live in Virginia, you can get vaccinated through: