12 hours.
That's the maximum amount of time doctors have to transplant a liver once they remove it from a donor. During that 12 hours, a carefully orchestrated dance must take place behind the scenes, one where doctors and staff from different organizations must work together in perfect step as mistakes or delays could make the patient sicker or put her back on the waiting list.
How It Works: Kidney and Liver Transplants
At UVA, many liver transplants work like this:
A patient at another hospital becomes brain-dead following an accident, a stroke or another illness. The person has registered as an organ donor, or the family consents to the donation. At least some of the patient's organs must be deemed healthy enough for transplant.
An organ procurement organization (OPO) steps in and keeps the patient on life support.
The OPO contacts hospitals with patients who are next in line for transplant. Each organ has its own waiting list. Patients waiting for kidneys get priority based on how long they've been waiting, while potential liver recipients get priority based on how sick they are.
The potential recipient's surgeon decides whether to accept the organ.
The surgeon who will be transporting the organ (known as a procurement surgeon) works with the OPO to coordinate transportation to the donor's hospital, usually via medical helicopter or ambulance.
After arriving, the procurement surgeon talks to the OPO to verify that the donor is truly brain dead and the liver is compatible with the recipient.
The procurement surgeon takes out the patient's kidneys and liver, coordinating with a number of other surgeons who are also taking organs and tissues. The surgeon examines the organs after removing them to ensure they are healthy; any suspicious masses need to be checked for cancer or other issues.
Meanwhile, a surgical team at UVA contacts the recipient and gets the patient ready in the operating room.
The procurement surgeon returns to UVA with the liver and kidneys, and the patient receives the liver. The OPO sends the kidneys to whichever hospital is receiving them.
Because kidneys remain healthy for about 24-30 hours outside of the body, it's easier for the same procurement surgeon to get the liver and kidneys and send the kidneys to the appropriate hospital. The kidneys are pumped with a solution that helps them stay viable.
But whatever the organ, time is of the essence. Which means that the people who procure, transport, and install the organs have schedules that are often crazy, time-consuming and unpredictable.
The People Behind the Transplants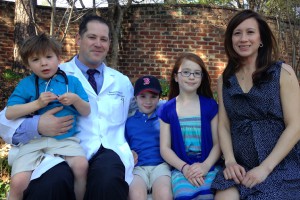 During National Donate Life Month, we wrote about a mother who struggled to care for her twins until new lungs gave her energy. But we often don't hear much about the doctors and staff behind the scenes who make those stories happen.
Meet Bartholomew Kane, MD, a procurement, transplant and pediatric surgeon. Depending on the week, he's involved in various stages of kidney, liver and pancreas transplants.
He loves procurement and the many people he meets along the way, from the ambulance drivers to the OPO coordinators. But examining the organ in the operating room for abnormalities is "nerve-racking, because you know you have a patient and surgeon back at your institution who are waiting for you to bring back a good organ," Kane says.
Fortunately, it's rare to get to the donor's hospital and realize the organ isn't healthy enough for transplant. Kane estimates this happens less than 10 percent of the time; but just in case, he warns his patients beforehand. "What I always say is, we want to get an organ that's going to make you better off after the surgery than before the surgery."
Kane is usually on call for liver procurement and kidney transplant; liver transplants; pediatric surgery; patient rounding in the hospital; or to provide backup for other transplant surgeons. When he's not on call, Kane still has paperwork and patients, but he does get to spend more time with his family.
A Family Man: Work-Life Balance
Kane grew up in small-town Montana. His father died when he was three. "He was a very strong family man, so that culture and thinking has been transmitted to me in terms of being a family person."
A father of three kids with another due in July, Kane worries about the amount of time he has to spend away from his wife and children, his "favorite people." The demands of an on-call week are unpredictable: He considers two procurement runs to be a light week; a heavy week might mean five. And these runs can happen any hour of the day or night.
"I wonder how things would have been different if my father had been around for me, so I try to be around for them as much as possible. But then I've also chosen this very demanding specialty, so it's a dilemma. They're special individuals, and they need support and their father."
His wife is sometimes frustrated with the demands of his job, but she reminds their kids how important their dad's job is. He explains that she tells them, "'He's sorry he can't be here, but he's doing something important to help a patient' — that's generally what she's saying to them, even though she might feel otherwise. When she hears about a patient who's doing well, I think she's glad for it."
Teamwork Makes It Work
Kane isn't the only doctor who juggles procurement runs with a family. Some of his fellow liver and kidney transplant surgeons — Avinash Agarwal, Shawn Pelletier, Daniel Maluf and Ken Brayman — also have kids. So they cover for each other whenever family needs come first.
Kane often takes a transplant fellow or a medical student with him when he goes on procurement runs. Transplant fellows need to learn to do the surgeries; students get to learn more about anatomy. Even outside of the procurement runs, he follows a dizzying schedule seeing pediatric and transplant patients in the hospital and performing surgeries.
"One of the things I love about this is that it is super complicated," he says. "You're part of a network and a team."
Save a Life: Become an Organ Donor
You don't have to be a surgeon to help patients with life-threatening illnesses. Register to become an organ donor:
•    Virginia residents: Sign up through Donate Life Virginia.
•     Live outside of Virginia? Learn how to register in your state.
Learn more about UVA's transplant services.