Every week we're publishing the winning poems from April's medical poetry contest. This week's poem was a runner-up in Category I: Bedside Manners.

Untitled
By Tina Auth
Our son was born dying, little did we know. He was rushed to UVA, the best place to go.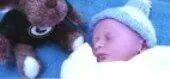 A team of professionals, rushed to our side. We were getting ready to face a roller coaster ride.
Our little man had been born with a damaged heart. Placing him in NICU was a great place to start.
His odds were not good. He was critical and weak. They took care of our son, they tried every technique.
Despite their best efforts, our son lost his fight. At day three he decided to follow the light.
Our story did not have a happy ending. We still hurt to this day. But will always cherish his UVA stay.
We were treated with such kindness, with love, and respect. The compassion they showed us we can never pay back.
Thank you for giving us time we would not have otherwise had. From the bottom of our hearts, Cullen Auth's Mom and Dad.