Three years ago, Health System and Children's Hospital leadership stood in a sandbox by the 11th Street parking garage. With toy dump trucks and balloons to commemorate the occasion, they celebrated the groundbreaking of a special pediatric outpatient building.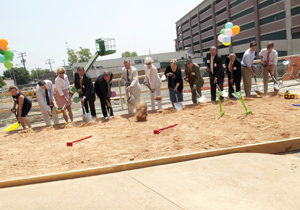 This summer, the years of planning will come together as the Battle Building at UVA Children's Hospital opens. The 200,000-square-foot facility will include:
Pediatric primary care, including teen and young adult health
Dozens of specialty services, including cancer, heart disorders and developmental pediatrics
Care organized into neighborhoods that group similar services together, for easier doctors' visits
Bright colors, play areas and a storytelling theme throughout the building, incorporating classics like "Charlotte's Web" and "Curious George"
"Our new building will enable us to deliver much better service, which is what we are all about," says James Nataro, MD, PhD, MBA, director of Children's Services. "The providers will be able to deliver more integrated care, since we will all be in the same place; it will help us better deliver care focused on patients' needs." (Pick up a copy of Albemarle magazine for a Q&A with Nataro.)
Get the First Glimpse Saturday, June 14
See it for yourself! We're having an open house Saturday, June 14 from 10 a.m.-2 p.m. Take a tour, meet our pet therapy dogs and enjoy fun activities, music and food for kids and the whole family.
The Battle Building is at 1204 West Main Street in Charlottesville. Park for free in the attached 11th Street garage.
Two Specialties Nationally Ranked in U.S. News & World Report
This week, U.S. News & World Report published the 2014-2015 Best Children's Hospitals guide and ranked two of our specialties. Urology is ranked 37th nationally, while neonatalogy is ranked 43rd.
Meet a Children's Hospital Patient
David Robinson has Down syndrome and is a Wilms' tumor cancer survivor. Watch a video about how the Battle Building will help him and his family.