Cassie Hobbs is a rising high school senior, and this is her third summer volunteering through our junior volunteer program. Did you miss her first post this summer? Find out what she had to say about orientation and hospital rules.
There's an easy way to communicate at UVA, and it's an electronic medical record (EMR) known as MyChart. Staff at University Medical Associates, otherwise known as UMA, requested assistance linking this UVA service to the patients in their waiting room. MyChart allows patients access to their medical records via an interactive resource: The internet. Patients can access information such as medical history, available prescriptions, future appointment dates and laboratory test results, which they may not have had immediate access to before. In addition, it allows for quick and efficient communication between patients and their doctors.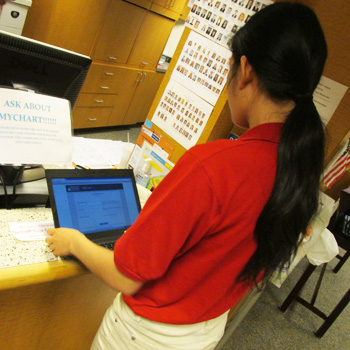 But for some patients, signing up for MyChart is more than a little confusing. That's where Junior Volunteers (JVs) come in. Part of the JVs' job is to mingle with patients, to chat with them, and hopefully discuss MyChart, encouraging patients to use the new resource. JVs provide information and assistance, offering to walk patients through the sign-up process. Sometimes their attention is received positively, but other times it's unwelcome. One JV said that most of the patients she has dealt with are very honest about their opinions of MyChart: "[Some] patients will deny any interest before you begin explaining," she said, "[but] some patients are very interested in it, which is also good."
Erin Sams, another JV, says she thinks patients sometimes find them an inconvenience. "Some say yes [when asked to sign up for MyChart], but I think some think we're annoying." According to Sams, others refuse because they don't have internet at home.
But patient response notwithstanding, the JVs that work with UMA find MyChart to be a good idea. "It's a good experience," said Sams, when asked about her work with UMA and MyChart. "[MyChart] is a good idea. It makes health easier for the patient and Health System." Peggy Nees, clinical operations coordinator for UMA, reported that the JVs helped 75 patients sign up for MyChart in the first 4 weeks of the program this summer!
Need a MyChart Account?
Access your EMR and talk to your doctor from your computer or smartphone. Sign up and download the iPhone or Android app.